World premiere of Nordic disaster movie The Wave to open festival in Haugesund.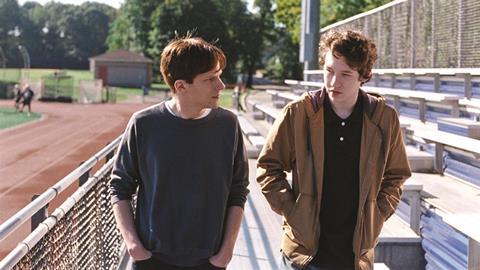 Joachim Trier's Louder Than Bombs, starring Jesse Eisenberg, has been named as the closing film of the 43rd Norwegian International Film Festival (Aug 16-21) in Haugesund.
The drama, about how a father and his two sons confront their feelings of their deceased wife and mother, was Norway's first Palme d'Or contender at Cannes in 36 years and is set to play at Toronto next month.
As previously announced, NIFF will open with the world premiere of Roar Uthaug's disaster movie, The Wave (Bølgen), when the festival is launched by Norway's Crown Prince Haakon on Aug 16.
It means Norwegian films will both open and close the festival.
Tonje Hardersen, who was named the new NIFF festival director in March, said: "I am very happy to see that local cinema is so well represented, and in so many genres."
Considering the wider programme, Hardersen added: "It is indeed a pleasure to welcome the grande dame of Danish film and theatre Ghita Nørby, and Danish director Bille August, with their films in the main programme."
The Crown Prince will also attend the gala screening of Norwegian director Kari Anne Moe's documentary Rebels (Pøbler), "a raw portrait of long-term unemployed youngsters who get a second chance".
Danish Oscar-winning director Bille August's Silent Heart (Stille hjerte) concludes the Scandinavian part of the main selection.
Programme
NIFF programme director Håkan Skogrand has selected a mix of upcoming US, UK and international releases for the line-up.
These include US director Jonathan Demme's Ricki and the Flash, starring Meryl Streep; UK director Simon Curtis' Woman in Gold, with Helen Mirren; German director Sebastian Schipper's Victoria; Italian director Francesco Munzi's Black Souls (Anime nere); Estonian director Martti Helde's Crosswind (Risttuules); and Iranian director Jafar Panahi's Berlinale winner Taxi.
Anja Breien celebration
Norwegian director Anja Breien, who recently celebrated her 75th birthday – and the 40th anniversary for the first part of her Wives (Hustruer/1975-1996) trilogy – was this year awarded the Messenger Award by the Norwegian Critics' Association, "having enrichened film culture by spreading knowledge, commitment and enthusiasm for film as art."
In Haugesund, the Norwegian National Library will introduce a new DVD box of her works: Witch Hunt (Forfølgelsen/1981), Next of Kin (Arven/1979) and Games of Love and Loneliness (Den allvarsamma leken/1977).
Norwegian director Arne Lindtner Næss' Casper and Emma on Safari (Karsten og Petra på safari) is among the seven picks for the Cinemagi-Children's Film Festival.
The Nordic Focus includes Swedish director Stig Björkman's documentary Ingrid Bergman in Her Own Words (Jag är Ingrid), which was on show in Cannes, and two Icelandic features, Dagur Kári's Virgin Mountain (Fúsi) and Baldvin Zophoníasson's Life in a Fishbowl (Vonarstræti).
Industry
Almost 300 Nordic and international film professionals have registered for New Nordic Films, the industry side of the festival, which runs Aug 18-21.
The Nordisk Film & TV Fond will continue its Nordic Genre Boost initative of seven projects, ranging from horror to science fiction and dystopian fantasies.
There will also be the film market, the introduction of works-in-progress and the Nordic Co-production and Finance sessions.
Amanda Awards
As usual the festival will be preceded (Aug 15) by the Amanda awards – Norway's national film prizes – which will be presented during a TV2 televised ceremony at Haugesund's City Hall and Maritim Hall.
Top nominées are Norwegian directors Bent Hamer's 1001 Grams (1001 gram) and Hallvard Bræin's Børning, considered in six and five categories, respectively, including Best Film (with Ole Giæver's Out of Nature/Mot naturen).