Naomi Kawase, Michael R Roskam, Noomi Rapace among attendees.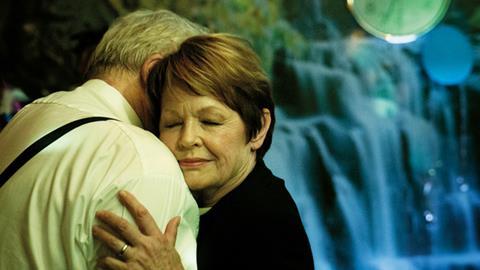 Danish drama Key House Mirror, directed by Michael Noer (R), will open the 2015 edition of the Göteborg Film Festival (Jan 23 - Feb 2).
Ghita Nørby and Sven Wollter play the lead roles in the drama about an elderly woman who strikes up an unexpected relationship with a fellow care-home resident.
Jorn Donner's docu-biopic of Finnish designer Armi Ranta, Armi Alive!, will close the festival.
Eight Nordic films will compete for the $125,000 Nordic prize with this year's jury comprising directors Pernille Fischer Christensen, Pirjo Honkasalo, Anja Breienand Benedikt Erlingsson, as well as actress Maryam Moghaddam.
The nominees are:
Key House Mirror by Michael Noer
My Skinny Sister by Sanna Lenken
In Your Arms by Samanou Acheche Sahlstrøm
Paris of the North by Hafsteinn Gunnar Sigurðsson
They Have Escaped by Jukka-Pekka Valkeapää
Homesick by Anne Sewitsky
Underdog by Ronnie Sandahl
Women in Oversized Men's Shirts by Yngvild Sve Flikke
Debut prize
The Ingmar Bergman International Debut Award, founded by Ingmar Bergman and judged this year by Japanese director Naomi Kawase, will be awarded to a first or second-time director. This year's nominees are:
The Lesson by Kristina Grozeva, Petar Valchanov
Court by Chaitanya Tamhane
Love the One You Love by Jenna Bass
Limbo by Anna Sofie Hartmann
In the Crosswind by Martti Helde
Flapping in the Middle of Nowhere by Diep Hoang Nguyen
Bridgend by Jeppe Rønde
Parabellum by Lukas Valenta Rinner
The festival's Gala section includes Michael R Roskam's The Drop, starring Tom Hardy and Noomi Rapace, with director and actress Rapace in attendance, Olivier Assayas' Clouds of Sils Maria and Bille August's Silent Heart.
Also showing will be Daniel Barnz's Cake, starring Jennifer Aniston; Stephen Hawking biopic The Theory of Everything; and Ruth & Alex alongside films by Susanne Bier, Paul Thomas Anderson and Isabel Coixet.
Previously announced titles include Listen Up Philip by Alex Ross Perry, Wild Tales by Damián Szifron and Love is All: 100 Years of Love & Courtship by Kim Longinotto.
This year's animator in focus is Michaela Pavlátová while Swedish premieres include The Smiling National Team by Karin af Klintberg, Viktor Johansson's Flogsta Heaven and Daniel Danial's Råggywood.
Eight titles are nominated for the Best Nordic Documentary award, which comes with a $12,500 prize, while the festival's focus on Japan will include films by Naomi Kawase, Studio Ghibli, Sion Sono and newcomers such as Kiki Sugino.
Kawase, Sugino and Mami Sunada will attend the festival.
Liv Ullmann will be awarded the Nordic Honorary Dragon Award.
This year's festival, which also includes a focus on Norway, will show close to 500 films from 89 countries across 11 days.
The full programme will be announced later today [Jan 8].