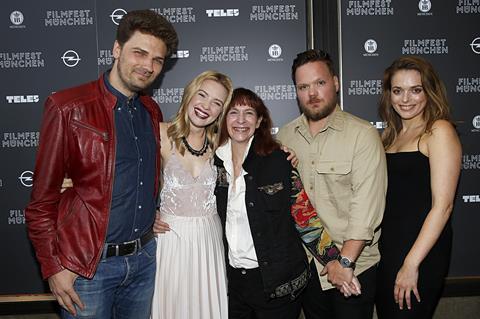 "It's my darkest work yet," says director Linus de Paoli of his second feature A Young Man With High Potential.
The English-language film had its world premiere in the New German Cinema sidebar during the Munich Film Festival's first weekend.
It stars Danish actor Adam Ild Rohweder in his first lead as a brilliant, but sexually inexperienced student of computer science whose feelings for a fellow student, played by Poland's Paulina Galazka, are not reciprocated.
"I see it as a personal horror film," says de Paoli.
It makes perfect sense when he explains which filmmakers inspire him. "I always come back to Lars von Trier because he regularly uses elements from different genres in his films," de Paoli explains. "For example, Antichrist is a thriller, but it is also a love story."
"And the films of the German director Roland Klick always resonate with me," the director continues. "They say, 'we can't come up with a definite answer, what we are showing is too complex, and you shouldn't close all the doors'."
A Young Man With High Potential co-stars Munich jury member Amanda Plummer who also appeared in Paoli's graduation feature Dr Ketel in 2011. He studied at Berlin's German Film & Television Academy (DFFB). Plummer, who is in Munich as a member of the CineMasters competition jury for best foreign film, plays a detective investigating Klara's mysterious disappearance.
"The decision to have actors from different countries - from Denmark, Poland, Bulgaria and Belgium - was more story-driven than in my previous film Dr. Ketel," de Paoli explains. "From the beginning, I knew the story would be set in an unspecific European Union country and I wanted to make it hard as possible for the audience to know, for example, whether the protagonist Piet comes from."
A Young Man With High Potential is produced by De Paoli's wife Anna, with whom he is a partner with several fellow DFFB students, in the filmmakers collective Schattenkante. His father, Gerhard Hahn, owner of one of Europe's leading animation studios Hahn Film, is also a co-producer and provided studio and postproduction facilities.
Linus and Anna de Paolis say they prefer to work with their 'film family of collaborators behind the camera including DoP Luciano Cervio, people who share their uncompromising artistic vision.
US sales agent Raven Banner Entertainment picked up internatioanl rights to the project after meeting the de Paolis in Cannes.
Anna de Paolis admits A Young Man... is quite different from the usual slash and gore fare on offer at Raven Banner, "They have really got behind the film and have got us invitations to festivals in Neuchatel, where the international premiere will be next week, and Strasbourg," she says.