Top Croatian winners are Number 55, The Reaper and Happy Endings; Concrete Night wins international competition.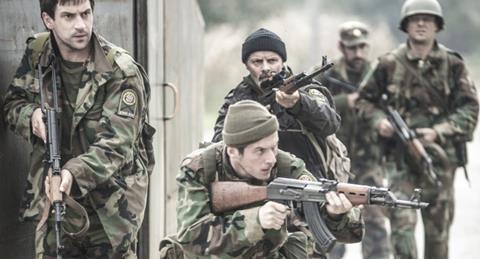 The 61st Pula Film Festival handed out its awards in the city's stunning amphitheatre last night (July 26), with Kristijan Milić's Number 55 winning best Croatian Film.
The jury said its award went to "the film produced according to highest professional standards and the film that achieves an authentic and emotional presentation of a true event from the Croatian War of Independence."
The winning packages includes €10,000 worth of post production services from Teleking.
The film swept a number of prizes in the Croatian competition, including best screenplay and best director.
Set in 1991, Number 55 is based on a true story of a small group of Croatian soldiers who are ambushed while on patrol and have to hide from rebel Serbs, the Yugoslav Army and Serbian Special Forces.
The Reaper, about a lonely man coming to terms with his past crimes, won the two actor's prizes as well as the local critics' prize, while Happy Endings won the two actress awards (full list of Croatian programme awards below).
Number 55 came in second place in the festival's audience awards, behind The Brave Adventures of a Little Shoemaker by Silvije Petranović.
The audience award, sponsored by Hrvatski Telekom, also saw strong scores for third to fifth place finishers Monument to Michael Jackson, The Bridge at the End of the World, and Happy Endings.
In the international competition, Pirjo Honkasalo's black-and-white Finnish drama Concrete Night took top honours. The jury praised the film "For successfully creating a unique atmosphere in a poetic and visually impressive manner.'"
A special mention went to Amour Fou by Jessica Hausner, and best international short was Hu Wei's Butter Lamp.
Guests in Pula this year included Icelandic filmmaker Fridrik Thor Fridriksson, who served on the international jury and also presented a retrospective of his films; actor Mustafa Nadarevic (winner of the Fabijan Sovagovic award) and American director Mike Cahill who presented his Sundance selection I, Origins at a late screening in the amphitheatre.
One special programme in Pula this year was a selection of films from 1965, including a Brijuni Island screening of Man Is Not a Bird by Dusan Makavejev.
New artistic vision
The festival was under new leadership this year, with Gordana Restovic serving as the festival's director, and a new three-person artistic board installed: Mike Downey, Tanja Milicic and Hrvoje Puksec. The trio has a three year mandate.
Downey, who is based in the UK but has had strong ties to Croatia for two decades, told Screen: "It's very necessary that somewhere as diverse as culturally mixed as here, that we have someone from Pula [Milicic], and someone from the center of Croatia to represent the Croatian industry [Puksec], and someone for international. We all complement each other well. It's a very nice balance."
The trio are looking at the best future for the festival's programming in a year after the big 60th anniversary in 2013. "For the anniversary last year, a lot of films were pulled forward to make the 60th. There have been fewer Croatian films this year, but we can use this year to try to reimagine and rething the programme, and redefinte the festival for the future."
He added: "We want to look, listen and learn to come up with a programme that will serve the public but also the Croatian industry."
As Milicic noted, "the professionals that come here want to meet other people and learn," and as such the festival introduced more industry events aimed at connecting international experts with local filmmakers. Speakers giving talks and workshops include PR expert Charles McDonald, marketing expert John Durie, Nik Powell of the NFTS, and sound veteran Ray Gillon.
As Croatia's national festival, a large part of the programme is out of the festival's hands, as they show all the major Croatian features produced each year. For instance this year the works were "heavier themes and not as many audience pleasers," Milicic noted.
Milicic added of future plans: "We still want our audience to trsut us and we want them to be the centre of attention."
Croatian Programme awards
The Breza Award for best debutant
Danko Vučinović for cinematography in the film Zagreb Cappuccino by Vanja Sviličić.
'For elegant and precise solutions in terms of presenting flat consumerist environment of the protagonist.'
Golden Arena for Best Make-Up
Ana Bulajić Črček for Number 55
'For a painfully realistic, discreet and varied make-up of soldiers involved in a guerrilla war.'
Golden Arena for Best Special Effects
Branko Repalust and Kristijan Mršić for Number 55
'For a realistic reconstruction of war confusion and agony.'
Golden Arena for Best Costume Design
Vedrana Rapić for Number 55.
'For contributing to characterization with a subtle and authentic war uniforms design.'
Golden Arena for Best Art Direction
Damir Gabelica for Number 55.
'For brilliant resourcefulness and an authentic performance using very basic scenic design elements.'
Golden Arena for Best Music
Luka Zima for Zagreb Cappuccino.
'For the music that significantly contributes to the atmosphere and the emotional picture of the film as a whole.'
Golden Arena for Best Editing
Veljko Segarić for Number 55
'For skilful editing of a high-tension action film.'
Golden Arena for Best Cinematography
Branko Linta for The Reaper.
'For masterly photography of complex night scenes that contributes to the suspense in the film.'
Golden Arena for Best Actor in a Supporting Role
Igor Kovač in The Reaper
'For his excellent portrayal of a young man who makes a hard decision and has to face its consequence.'
Golden Arena for Best Actor in a Leading Role
Ivo Gregurević in The Reaper
'For a suggestive portrayal of a man burdened by a crime from the past and loneliness.'
Golden Arena for Best Actress in a Supporting Role
Anita Matić Delić in Happy Endings
'For an energetic presentation of a bitter and neurotic woman pressed by everyday problems.'
Golden Arena for Best Actress in a Leading Role
Areta Ćurković in Happy Endings
'For an emotional presentation of an ordinary woman forced to take drastic measures in order to solve her personal and existential problems.'
Golden Arena for Best Screenplay
Ivan Pavličić for Number 55
'For a clear narrative structure and direct characterization of relationships within a group in an extreme situation.'
Golden Arena for Best Director (with $53,000 from Hypo banka)
Kristijan Milić for Number 55
'For a masterly presentation and skilful directing of complex action scenes and a large acting crew.'
Grand Golden Arena for Best Film
Number 55 by Kristijan Milić, produced by Croatian Radiotelevision, producer Stanislav Babić.