Titles include Shawn Christensen's Before I Disappear and Suha Arraf's Villa Touma [pictured]; guests include Mike Leigh and Ruben Ostlund.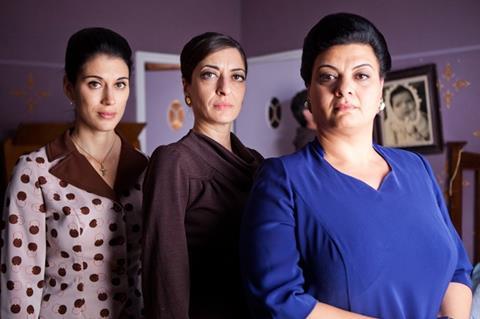 The Reykjavik International Film Festival (Sept 25 - Oct 5) has unveiled the 12 features in competition for the Golden Puffin award, reserved for first or second time directors.
They include US drama Before I Disappear, from director Shawn Christensen, which picked up the audience audience at SXSW, where it received its world premiere.
Also in the running is family drama Villa Touma, from Palestinian/Israeli director Suha Arraf, which played at Venice and Toronto; and Grzegorz Jaroszuk's Kebab and Horoscope, which debuted at the Karlovy Vary Film Festival.
The competition line-up includes:
Villa Touma,Suha Arraf
The Lack, Masbedo (It)
Age of Cannibals, Johannes Naber (Ger)
Before I Disappear, Shawn Christensen (US-UK)
Bonobo, Matthew Hammett Knott (UK)
Heimurinn, Iris Elezi, Thomas Logorrheic
The Council of Birds, Timm Kröger (Ger)
I Can Quit Whenever I Want,Sydney Sibilia (It)
Kebab & Horoscope, Grzegorz Jaroszuk (Pol)
Summer Nights, Mario Fanfani (Fra)
They Have Escaped, Jukka-Pekka Valkeapää (Fin-NL)
Two Step, Alex R. Johnson (US)
The festival will comprise more than 100 films from over 40 countries, highlighting independent film making from all over the world with an emphasis on up-and-coming filmmakers.
This year's guests of honour are British director Mike Leigh whose latest film Mr. Turner will be screened, and Swedish director Ruben Ostlund whose film Force Majeure which will receive its Icelandic premiere.
The festival's opening film is Aaron Katz and Martha Stephens' Land Ho!, a US production set in Iceland. The closing film is Richard Linklater's Boyhood.
Other programme highlights include Roy Andersson's A Pigeon Sat on a Branch Reflecting Upon Existence, which recently won the Golden Lion at the Venice Film Festival.
Festival titles include Xenia by Panos H.Koutras which was officially selected at Cannes, and fresh from Toronto are Itsi Bits by Ole Christian Madsen, Monsoon by Sturla Gunnarsson and The Lesson by Kristina Grozeva and Peter Valchanov.
A special theme this year is War and Peace, to commemorate 100 years since the start of the First World War. Journalist and filmmaker John Pilger will attend a panel discussion on the function of media in times of war, along with Palestinian/Israeli director Suha Arraf who has also been a correspondent in Gaza and whose film Villa Touma plays in competition.
Among the events surrounding RIFF this year is a 30th anniversary screening of Viking movie When The Raven Flies by director Hrafn Gunnlaugsson, with live accompaniment by the heavy-metal band Sólstafir.
The will also be a hot-tub short film screening, a workshop for children, the One Minute Film Awards and a special focus on films from the Faroe Islands and Greenland.