The Austrian director talks about survivalist feature, which receives its world premiere in competition at International Film Festival Rotterdam (IFFR).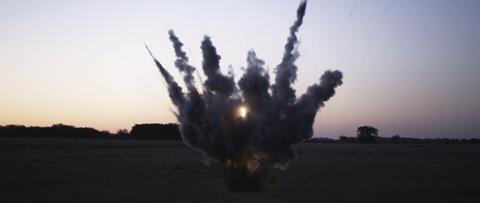 Austrian filmmaker Lukas Valenta Rinner is competing in IFFR's Tiger Awards Competition with his debut feature Parabellum about a group of middle-class who sign up for a survivalist training camp in Argentina's Tigre Delta amid fears that the end of the world is nigh.
Rinner studied film at Buenos Aires's prestigious Universidad del Cine, which number Pablo Trapero, Damian Szifron and Lisandro Alonso among its alumni, and ended up making the Argentine capital his home.
In 2012, he founded the Nabis Filmgroup alongside a number of his contemporaries at the school with the aim of producing auteur films from across Latin America.
Prior to that, they had produced a number of shorts including his A Letter to Fukuyama, about the abduction of a young woman from a wealthy neighbourhood by a stranger, which played at several festivals.
The company is currently developing several feature films by up and coming directors, working with a plethora of funds including Argentine film body INCAA, Uruguay's ICAU, Brazil's Ancine and festival support schemes.
He talked to ScreenDaily about his latest film.
What was the inspiration for Parabellum?
The first ideas for Parabellum came to me in 2012 when there was a lot of media coverage on the end of the Mayan Calendar and people participating in preparatory survival camps. To me this hysteria almost seemed like a wish to escape our daily lives and routines. On top of this, the preparation camps for the "end of the world" appeared to be an almost "touristic" experience for some people, which seemed utterly bizarre to me.
What inspired me further was the unique landscape of the Tigre Delta, which lies 40 minutes outside of Buenos Aires. When I first saw the abandoned islands and canals, I immediately envisioned a group of tourists roaming around there in order to survive.
A Letter to Fukuyama revolved around the kidnapping of a woman from a gated community? Would it be fair to say both your works to date revolve around middle class fears? What's a the root of this pre-occupation?
I grew up in a typical Austrian middle class family and moved to Spain when I was 18. After that my education lead me to Buenos Aires. Returning to Central Europe once in a while has definitely changed my perspective on middle class comfort and the preoccupation with status and wealth.
In Argentina, the vast gap between middle class and working class have further encouraged me to confront these issues in my films.
Respected Argentine actors, Eva Bianco and Pablo Seijo star in the film. How did you get them on board?
Pablo is a well-known actor from the independent theatre scene in Buenos Aires.
When we first thought about casting for our film, we got several recommendations to see him perform. After seeing him on stage, we instantly knew that Pablo would be the perfect choice for our main character. Luckily Pablo loved the idea of the film and accepted enthusiastically.
Now, Eva I first saw Ivan Fund and Santiagos Loza's Lips (Los Labios), which won her best actress in Un Certain at the Cannes. I loved her performance and a friend had just shot a film with her so he put me in contact. We were straight forward with her regarding the limited budget of the film. She told us: "I make films I'm interested in, not because someone pays me". So again we were lucky to have such an incredibly talented actor working with us.
The plot seems reminiscent of Melancholia – are you a fan of Lars von Trier?
I really like Lars von Trier's work and find his bold choices and unique approach to filmmaking inspiring. When you mention Melancholia and similarities to Parabellum, I feel like while both films have an "end of the world" theme, they are almost contrary to one another. Lars von Trier highlights very well his characters and puts lots of focus on the individual. Parabellum on the other hand focuses on raw primal instincts of a group and how that group behaves in an unfamiliar environment.
What are you working on next?
Since I am genuinely inspired by people, and the spaces they inhabit, my next project will be about a remote Nudist Swinger Club in the province of Buenos Aires. I am currently developing the script.