Out of competition screening for My Craft about artist Arsen Dedic.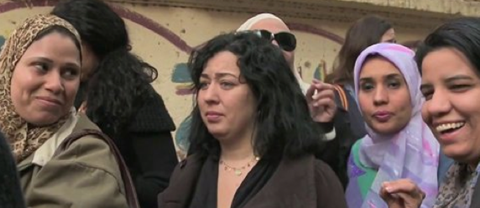 The Sarajevo Film Festival has announced its documentary competition for 2014.
Themes explored include non-violent protests and civil disobedience (Everyday Rebellion); refugee immigration and growing xenophobia (Evaporating Borderes); a controversial Stalin statue in a small town (The Ruler); Egyptian women in the Arab Spring (Private Revolutions); and IT engineers searching for love (Love and Engineering).
Also, the festival will host a gala screening, out of competition, with the international premiere of Mladen Matičević's My Craft from Croatia and Serbia, about the music, poetry and life of the artist Arsen Dedić.
DOCUMENTARY COMPETITION
Azemina
Enes Zlatar, Ajdin Kamber (Bosnia and Herzegovina) [world premiere]
Ghetto 59
Ines Tanović (Bosnia and Herzegovina) [world premiere]
Naked Island
Tiha Klara Gudac (Croatia) [world premiere]
Private Revolutions – Young, Female, Egyptian
Alexandra Schneider (Austria) [world premiere]
The Ruler
Shalva Shengeli (Georgia) [world premiere]
Scandal
Elton Baxhaku, Eriona Cami (Albania) [world premiere]
Children Of Transition
Matija Vukšić (Croatia)
The Forest
Siniša Dragin (Romania-Serbia)
Mitch - The Diary Of A Schizophrenic Patient
Damir Čučić, Mišel Škorić (Croatia)
Uncle Tony, Three Fools And The Secret Service
Mina Mileva and Vesela Kazakova (Bulgaria)
Evaporating Borders
Iva Radivojević (US-Cyprus-Greece-Serbia)
Judgement In Hungary
Eszter Hajdu (Hungary-Germany-Portugal)
Kismet
Nina Maria Paschalidou (Greece, Cyprus, Bulgaria, Croatia, UAE)
Love & Engineering
Tonislav Hristov (Bulgaria-Finland-Germany)
Once Upon A Time
Kazım Öz (Turkey)
Everyday Rebellion
Arash T Riahi, Arman T. Riahi (Austria)
Happily Ever After
Tatjana Božić (Croatia-Netherlands)
Men With Balls
Kristóf Kovács (Hungary)
Stream Of Love
Ágnes Sós (Hungary)