A Syria-filmed courage-under-fire doc is among those playing in Sundance's World Cinema Documentary competition.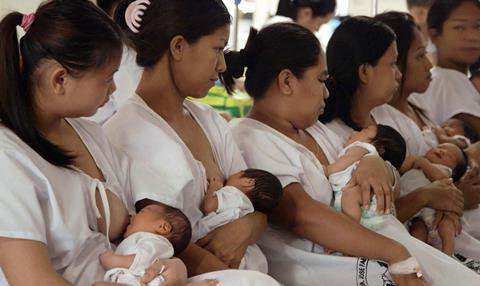 World Cinema Documentary Competition
The Good Postman (Fin-Bulg)
Dir Tonislav Hristov
Premiering in competition at International Documentary Film Festival Amsterdam (IDFA) in November, The Good Postman is about a man who runs for mayor in a small Bulgarian village, convinced they should do more to help with Europe's refugee crisis. Bulgarian director Hristov's credits include Spaghetti Western doc Once Upon A Dream, while producer Kaarle Aho's credits include Joshua Oppenheimer's The Look Of Silence. Backers include the Bulgarian National Film Centre, the Finnish Film Foundation and Bulgarian National Television. The project participated in the 2016 edition of the Prague-based Dok.Incubator programme.
Contact: Cat & Docs cat@catndocs.com
In Loco Parentis (Ire-Sp)
Dirs Neasa Ni Chianain, David Rane
For their new project, co-directors Ni Chianain and Rane spent a year in the Hogwarts-like Headfort boarding school in Ireland. The film focuses on the long-serving teachers John and Amanda Leyden, who are nearing retirement. In Loco Parentis became the first Irish doc to make the 15-film main competition shortlist at IDFA. Co-director Ni Chianain is best known for her controversial 2007 film Fairytale Of Kathmandu, about the poet Cathal O Searcaigh's ethically dubious relationships with Nepalese teenagers.
Contact: Soilsiu Films david@soilsiu.com
It's Not Yet Dark (Ire)
Dir Frankie Fenton
The Irish Film Board backed this doc about filmmaker Simon Fitzmaurice, paralysed with motor neurone disease (also known as ALS), who went on to direct a feature film using eye-gaze technology. The result of which, My Name Is Emily, opened Galway Film Festival in 2015. It's Not Yet Dark is a doc about the making of that film and went on to win the best Irish feature documentary prize at Galway in 2016. Fenton is an experienced TV director who also has The Good Reactor, about the energy crisis, in post. Both films are produced by Kathryn Kennedy of Ireland's Kennedy Films.
Contact: Autlook Film Sales salma@autlookfilms.com
Joshua: Teenager Vs Superpower (US)
Dir Joe Piscatella
Piscatella's documentary is about Joshua Wong Chi-fung, a prominent student activist in Hong Kong who has become one of China's best-known dissidents. Piscatella's credits include #chicagoGirl: The Social Network Takes On A Dictator, which was an award winner at IDFA in 2013. Joshua was produced by Piscatella with Matthew Torne and Mark Rinehart.
Contact: June Pictures cchidsey@junepictures.com
Last Men In Aleppo (Den)
Dirs Feras Fayyad, Steen Johannessen
This Danish-produced documentary follows Khalid, Subhi and Mahmoud, founding members of the White Helmets, the volunteer civil defence organisation that operates in rebel-controlled areas of Syria. Most of the footage comes from local reporters and photographers working for Aleppo Media Center (AMC), an independent news organisation covering the civil war. Larm Film's Soren Steen Jespersen produced in collaboration with AMC, and the film also received funding from the Danish Film Institute.
Contact: DR Sales kimc@dr.dk
Machines (India-Ger-Fin)
Dir Rahul Jain
Jain's debut feature premiered at IDFA in November to much acclaim. He paints a stark but non-judgmental picture of the lives and working conditions of men and women in an enormous textile factory in Gujarat, north-west India. Jain studied at the California Institute of Arts in Los Angeles, and Machines was selected for the Work-In-Progress Lab at Film Bazaar in Goa in 2015.
Contact: Autlook Film Sales salma@autlookfilms.com
Motherland (US-Phil)
Dir Ramona Diaz
Diaz returns to Sundance some 13 years after her film Imelda, about former first lady of the Philippines Imelda Marcos, played in the World Cinema Documentary Competition strand. Her latest film is also set in the Philippines, inside the world's busiest maternity hospital, which every day faces an uphill battle due to the Catholic country's ongoing struggle with its reproductive health policy. The film was edited by Diaz's long-term collaborator Leah Marino, and is produced by Diaz with Sony Pictures executive Rey Cuerdo, whose credits include 2002 drama Small Voices.
Contact: Dogwoof Global Sales global@dogwoof.com
Plastic China (China)
Dir Wang Jiu-Liang
The story of Yi-Jie, an 11-year-old girl who lives in an area of the Chinese countryside covered almost entirely by imported plastic waste, Plastic China won the special jury award for first appearance at IDFA in 2016 and was made with financial support from the IDFA Bertha Fund. It is the second film by the director to focus on China's huge waste-management problem; his 2011 doc Beijing Besieged By Waste was credited with forcing the local government to tackle the problem.
Contact: David Magdael & Associates dmagdael@tcdm-associates.com
Rumble: The Indians Who Rocked The World (Can)
Dir Catherine Bainbridge
Tony Bennett, Iggy Pop, Slash, Steven Tyler and Martin Scorsese are among the contributors to this film illuminating the role played by Native Americans in contemporary music history. Rezolution Pictures International, the Montreal-based, aboriginal-owned company of which director Bainbridge is co-owner, produced the film in association with Arte. Rezolution's credits include the Peabody Award-winning doc Reel Injun, also directed by Bainbridge, with Neil Diamond and Jeremiah Hayes.
Contact: Rezolution Pictures christina@rezolutionpictures.com
Tokyo Idols (UK-Can)
Dir Kyoko Miyake
Marking her second feature following 2013's My Atomic Aunt, which was supported by a Sundance grant, Japan-born UK-based filmmaker Miyake returns with this music documentary exploring Japan's fascination with girl bands. Tokyo Idols follows one aspiring pop singer and her fans. Miyake, who has participated in talent schemes including the Berlinale Talent Campus and Talent Campus Tokyo, produced alongside Felix Matschke and Bob Moore, whose credits include Last Train Home and China Heavyweight, both of which previously played at Sundance.
Contact: Cat & Docs cat@catndocs.com
Winnie (Fr)
Dir Pascale Lamche
Winnie profiles the complex figure of Winnie Madikizela-Mandela, the ex-wife of Nelson Mandela. Seen by some as a hero in the anti-apartheid movement, she is reviled by others and has been accused of both kidnap and murder. Director Lamche has tackled the subject previously with his 2004 film Accused #1: Nelson Mandela, which investigated the Rivonia Trial that sentenced Nelson Mandela to life imprisonment in 1964. Winnie is produced by Christoph Jörg for Pumpernickel Films and Eric Tavitian for Ran Entertainment.
Contact: Cinephil - philippa@cinephil.com
The Workers Cup (UK)
Dir Adam Sobel
The Workers Cup is the story of a group of men from Nepal, India, Ghana and Kenya labouring in difficult conditions in Qatar to build football stadiums for the 2022 World Cup in Doha. By night they form their own team to play the beautiful game in ad-hoc tournaments in the half-built stadia. The Workers Cup is produced by the award-winning London and Doha-based Mediadante, which focuses on bringing the stories of the Middle East and North Africa to a global audience. The film is produced by Ramzy Haddad and Rosie Garthwaite.
Contact: Autlook Film Sales salma@autlookfilms.com US contact: Cinetic office@cineticmedia.com
Director focus
Feras Fayyad & Steen Johannessen | Last Men In Aleppo
Syrian filmmaker Feras Fayyad had already shot a film about Raed Saleh, leader of the White Helmets aid group, when the siege of Aleppo began. That is when Steen Johannessen came on board to chronicle the group in the midst of escalating events in the Syrian city.
"We did not choose our subject, it chose us," says Johannessen.
The pair filmed from October 2015 to September 2016, their subjects and photographers frequently under fire.
The civilian White Helmets, so called because white represents hope amid the darkness, are respected by the population in east Aleppo. It is a view not universally held.
"They are regarded as terrorists [by Syrian president Bashar Al-Assad] and are in grave danger if they fall into the hands of the regime," says Johannessen.
"As documented in the film, there is no hesitation from the regime to attack the White Helmets and their bases in Aleppo."
The film transcends daily events in the civil war, with Fayyad noting "these characters have been eyewitnesses to crimes against humanity. They hope that anyone who will watch will at least remember."
Director focus by Jeremy Kay