Our guide to the films in Sundance's World Cinema Dramatic competition.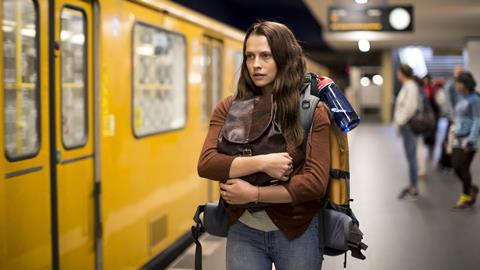 World Cinema Dramatic Competition
Axolotl Overkill (Ger)
Dir Helene Hegemann
The debut feature from German writer-director Hegemann, Axolotl Overkill follows a 16-year-old girl living in Berlin who, while grieving her recently deceased mother, develops an obsession with an older, white-collar criminal. Alain de la Mata and Hanneke van der Tas produce for Berlin-based production outfit Vandertastic Films; Arly Jover stars alongside emerging talent Jasna Fritzi Bauer.
Contact: Vandertastic Films info@vandertastic.com
Berlin Syndrome (Aus)
Dir Cate Shortland
Lore and Somersault director Shortland returns with this feature about a passionate holiday romance that takes a sinister turn when an Australian photographer wakes up in a Berlin apartment and is unable to leave. Teresa Palmer stars with Max Riemelt. Snowtown co-writer Shaun Grant adapted the screenplay from Melanie Joosten's novel. Produced by Polly Staniford for Aquarius Films, the project was backed by Screen Australia, Fulcrum Media Finance, Film Victoria and DDP Studios. Entertainment One is distributing in Australia and Curzon Artificial Eye has picked up UK rights.
Contact: Memento Films International sales@memento-films.com
Don't Swallow My Heart, Alligator Girl! (Braz-Neth-Fr-Par)
Dir Felipe Braganca
Set on the violent Brazil/Paraguay border, this first solo feature from Braganca follows a 13-year-old Brazilian boy who falls in love with an indigenous Paraguayan girl. Rio de Janeiro-born Braganca developed the script with help from the Berliner Künstler Programm, which offers grants to artists in the fields of visual arts, literature, music and film.
Contact: Duas Mariola Filmes dmfilmes@gmail.com
Family Life (Chile)
Dirs Alicia Scherson, Cristian Jimenez
Scherson and Jimenez are part of the exciting new wave of Chilean cinema that includes Pablo Larrain and Sebastian Silva. The two co-wrote Jimenez's 2009 debut Bonsai and have co-written and co-direct this feature that again probes the world of what Jimenez has described as the "provincial bourgeoisie". In Family Life, a man makes up an elaborately miserable marital history in order to impress a single mother. Jorge Becker and Gabriela Arancibia star. Bonsai screened in Un Certain Regard at Cannes in 2011. Family Life is produced by Chile's Peso Pluma.
Contact: Visit Films info@visitfilms.com
Free And Easy (HK)
Dir Jun Geng
Chinese independent director Jun has made a name for himself by depicting a China not often seen on screen. His third feature is about a salesman who arrives in a remote town and sets in motion a bizarre sequence of events. Free And Easy is produced by China's Wang Xuebo. The cast is headed by Xu Gang, Zhang Zhiyong, Xue Baohe and Gu Benshan.
Contact: Blackfin (Beijing) Culture & Media Co jean@blackfin.cc
God's Own Country (UK)
Dir Francis Lee
The debut feature from UK director Lee was developed through the iFeatures initiative and backed by the BFI and Creative England. Josh O'Connor, a Screen International Star of Tomorrow, stars as a bored sheep farmer in Yorkshire whose intense relationship with a migrant Romanian worker, played by Alec Secareanu, turns his world upside down. Ian Hart and Gemma Jones co-star in the film. The producers are Magic Bear Productions' Manon Ardisson and Shudder Films' Jack Tarling.
Contact: Protagonist Pictures info@protagonistpictures.com
I Dream In Another Language (Mex-Neth)
Dir Ernesto Contreras
Mexico's Contreras is back at Sundance with his second feature following Blue Eyelids in 2008. I Dream In Another Language has participated in Sundance Screenwriters Lab, Binger Filmlab, Buenos Aires Lab/Puentes and Jerusalem's Sam Spiegel International Film Lab. It was awarded the Sundance-Mahindra Global Filmmaking Award and received backing from the EU's Media programme, Imcine and Cinema Maquina. The film is about two estranged friends who are the last speakers of a mysterious indigenous language and the linguist who tries to bring them together again. It is produced by Revolver Amsterdam and Alebrije Cine y Video.
Contact: Agencia SHA luisalbores@me.com / Revolver Amsterdam welcome@revolver.nl
My Happy Family (Geor-Ger-Fr)
Dirs Nana & Simon
Nana & Simon (Georgia's Nana Ekvtimishvili and Germany's Simon Gross) previously collaborated on the 2014 festival favourite In Bloom. Their latest, much-anticipated film is about a woman who decides to begin a new life on her own, leaving behind her husband and grown-up daughter and the home of her elderly parents with whom they live. My Happy Family is produced by Cologne-based augenschein Filmproduktion, with Georgian co-producer Polare Film.
Contact: Memento Films International sales@memento-films.com
The Nile Hilton Incident (Swe-Den-Ger)
Dir Tarik Saleh
The Nile Hilton Incident is a noir thriller inspired by the real-life murder of a Lebanese reality TV show winner in Dubai. It focuses on a police detective, played by Fares Fares, working in Cairo's infamous Kasr el-Nil police station in the weeks before the 2011 Egyptian revolution, who is brought on to investigate a singer's killing. The film is backed by the Swedish Film Institute and produced by Kristina Aberg of Stockholm-based Atmo. It is co-produced by Denmark's Final Cut For Real and Germany's Ostlicht, with further backing from Eurimages and Film i Vast.
Contact: The Match Factory info@matchfactory.de
Pop Aye (Sing-Thai)
Dir Kirsten Tan
Tan's feature debut has already created a stir internationally. It won the top prize at 2014's TorinoFilmLab and was selected for Berlinale Talents' Script Station the same year. It was then selected for Cannes Cinefondation's l'Atelier in 2015, and was a recipient of the Media Development Authority of Singapore's new talent feature grant. Pop Aye (previously known as Popeye) is about a man who goes on a cross-country journey with his beloved elephant to find their childhood home. The film is produced by Lai Weijie and executive produced by Anthony Chen, and stars veteran Thai singer-songwriter Thaneth Warakulnukroh.
Contact: Cercamon hello@cercamon.biz
Woodpeckers (Dom Rep)
Dir Jose Maria Cabral
This prison-set drama sparked a bidding war after its screening at Ventana Sur Film Market in Buenos Aires in December. Woodpeckers is the story of an unlikely love affair in the Dominican Republic's Najayo prison. Tax incentives put in place by the Dominican Republic in 2010 helped finance the project.
Contact: Film Factory Entertainment manon@filmfactory.es
The Wound (S Afr-Ger-Neth-Fr)
Dir John Trengove
Shot entirely in the Xhosa language, The Wound is the debut feature of Johannesburg-based Trengove, an experienced TV and short-film writer/ director whose shorts have won acclaim on the festival circuit. The feature challenges traditional perceptions of African masculinity by exploring the difficult friendship that develops between a young gay teenager from the city who participates in a traditional circumcision ceremony in a rural village and the mysterious older man who leads the group performing the ritual. The Wound stars renowned musician and novelist Nakhane Toure. It is produced by South Africa's Urucu Media.
Contact: Pyramide International sales@pyramidefilms.com
Director focus
Nana & Simon | My Happy Family
This family drama from Nana & Simon focuses on the headstrong Manana, a 52-year-old wife and mother from Tbilisi who defies the patriarchal society in the former Soviet republic of Georgia when she moves out to live by herself.
Stage actress Ia Shugliashvili makes her feature debut in the lead role, in what the film's two directors see as a salute to their countrywomen.
"The film is inspired by the women of Georgia, who have lived their lives in service of others and yet still haven't given up their inner freedoms," say the pair, also known as Nana Ekvtimishvili and Simon Gross.
"It is still very common for Georgians to live in multi-generational households within a single apartment. Nevertheless, it's slowly changing as the younger generation begins to have better and more stable incomes. But often they still prefer to live together, even when they have money."
That appears the case in My Happy Family, where Manana lives under one roof with her husband Soso (played by Georgian star Merab Ninidze), parents and adult children. The film shot in Tbilisi last summer and received backing from a jigsaw of German, Georgian and French funds including Eurimages, the Georgian National Film Center and Institut Francais.
Jose Maria Cabral | Woodpeckers
Cabral's drama was the talk of Buenos Aires' Ventana Sur market in December and chronicles a budding romance in Dominican Republic's Najayo prison where male and female inmates are kept well away from each other.
"Watching how they communicate 150 metres apart was unbelievable," says the Dominican filmmaker, who embedded himself for months in Najayo and La Victoria prisons.
"Not only the fact they can communicate, but how this sign language transcended their condition of being in prison - how love can free you from any circumstance."
Actors Jean Jean, Judith Rodriguez Perez and Ramon Emilio Candelario play the leads; the supporting cast were real prisoners and guards. "I pitched the movie to the people in charge and they liked the idea of documenting the prison," says Cabral, who learned his craft in Spain and New York.
"I became friends with everyone!"
Woodpeckers shot for 24 days in May last year and was funded through the Caribbean nation's film initiatives by local companies Leterago, Paco Fish, Cometa, Blandino, Jaraba and Melcon. Next up, Cabral plans a road movie set on the island.
Tarik Saleh | The Nile Hilton Incident
The second narrative feature from Sweden's Tarik Saleh, who is of Egyptian heritage, takes place in Cairo in the run-up to the 2011 revolution as a detective uncovers corruption while investigating the murder of a singer. The 2008 murder of Lebanese pop star Suzanne Tamim in Dubai provided the initial spark.
"There is a long tradition in Egypt of using sex to destroy your political enemies," says Saleh, "so there was more than one story to draw inspiration from."
Days before the scheduled shoot in Egypt, the filmmaker and his Atmo producing partner Kristina Aberg had to relocate abruptly to Casablanca, where they enjoyed a fruitful collaboration with Kasbah Films.
"I'm still not free to talk about exactly what happened to us in Cairo," he says.
The Sweden-Denmark-Germany co-production is budgeted at just under $5m, and stars Swedish-Lebanese actor Fares Fares, Egypt's Yasser Ali Maher and newcomer Mari Malek.
It was funded mostly through soft money and, like Saleh's 2009 mystery Metropia, explores the dark side of life.
"I am a very optimistic person but I've always been fascinated with the human beings behind the conspiracy," he says.
"It's empowering to show the power is just people with desires and fears like the rest of us."
Director focuses by Jeremy Kay