Sundance Institute also reveals dates of second Hong Kong edition.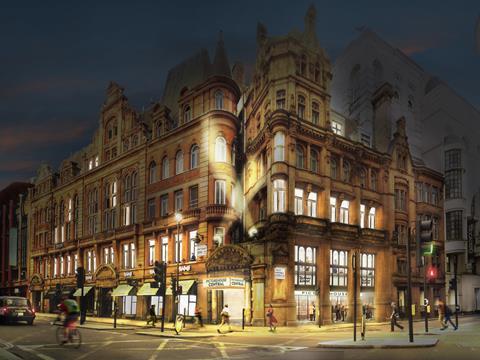 Sundance London, the UK festival offshoot of the Sundance Film Festival, is to return in 2016 following the cancellation of this year's edition.
After three years at The O2 venue in Greenwich, the film and music festival will be based at the new Picturehouse Central venue, currently under construction in central London and set to open this summer. Dates have yet to be confirmed but the previous three editions were held in April.
As in previous years, the line-up of films will be drawn from the Sundance Film Festival, held in January.
John Cooper, director of the Sundance Film Festival, said: "After three hugely enjoyable years in London, we look forward to returning next year and reconnecting with London film enthusiasts."
Picturehouse Cinemas MD Lyn Goleby said: "It has been a Picturehouse ambition for many years to launch a cinema in the West End. The opportunity of launching the cinema in partnership with Sundance Institute is something very exciting for us at Picturehouse and for film lovers."
In advance of this 2016 festival, Sundance Institute will host a few private screenings and events for London's independent film community at the new Picturehouse Central in June this year.
While at The O2, Sundance London gave international and UK premieres to films including Fruitvale Station, Obvious Child, Frank, The Trip to Italy, The Queen of Versailles, Blackfish, Upstream Color and The Look of Love.
However, while screenings were well attended with appearances from the likes of The Prince of Wales, Michael Fassbender, Ryan Reynolds and Jarvis Cocker, it was felt by some to be too far removed from central London, with the commercial nature of the venue not in tune with the indie sensibilities of the festival.
Picturehouse Central will offer 1,000 seats across seven screens when it opens in June. The redevelopment of the former Cineworld Shaftesbury Avenue will be the West End flagship of Picturehouse, with Dolby Atmos sound and 4k projection.
The cinema will also champion documentaries as a core element of its programming.
Hong Kong
Sundance Institute also announced today it will continue its event in Hong Kong, with the second edition of Sundance Film Festival: Hong Kong set to run from September 17-27, 2015.
It will run Thursday to Sunday for two consecutive weekends at The Metroplex, a newly opened cineplex in Kowloon Bay in Hong Kong. Ten independent films will premiere as part of the screening series.
The first year's programme featured the Hong Kong premieres of films including Whiplash, The Skeleton Twins, Life After Beth and The Case Against 8.
Robert Redford, president and founder of Sundance Institute, said: "We've nurtured filmmakers around the globe for many years now and these experiences have brought a rich perspective to all we do.
"Exploring international opportunities for the diverse landscape of American independent storytelling is an exciting proposition, and something to which we are equally committed."
Keri Putnam, executive director of Sundance Institute, added: "There are too few opportunities for independent artists to connect with international audiences, despite the increasing importance of this in building sustainable careers.
"Our events in Hong Kong and London are steps toward bridging this gap and show the openness of international audiences to exploring these films and issues."
Speaking about the HK and London editions, Cooper added: "We look forward to building programmes that are special to each location and, like our centerpiece festival, are fueled by a spirit of discovery and creativity."