The 27th Tokyo International Film Festival (TIFF) has announced its Special Screenings line-up of high-profile films from Japan and abroad.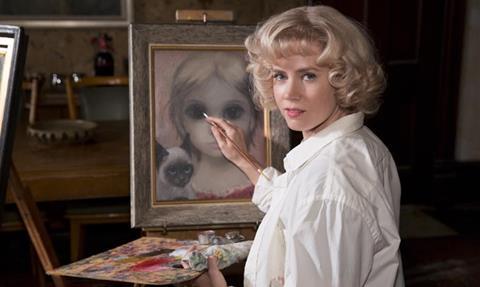 Aside from previously announced opening and closing films - Big Hero 6 and Parasyte - world premieres in Special Screenings include Mamoru Oshii's Japan-Canada coproduction Garm Wars The Last Druid, a "hybrid animation fusing pioneer CG and live-action technologies".
Also, Isshin Inudo's romance Miracle: Devil Claus' Love And Magic, Sebastian Masuda's The Nutcracker 3D and Kiyotaka Taguchi's The Next Generation - Patlabor - Episode 10, a live action version of Mobile Police Patlabor with special footage to screen with commentary from general director Oshii.
The line-up will also include a look at footage from upcoming Tim Burton feature Big Eyes, starring Amy Adams and Christoph Waltz. It opens in the US on Dec 25.
The festival will run Oct 23-31.
Special Screenings
Title/country/director, WP - World Premiere
Big Hero 6 (US) Don Hall, Chris Williams - WP
Parasyte (Jap) Takashi Yamazaki - WP
Appleseed Alpha (Jap-US) Shinji Aramaki
Attack On Titan -The First Part (Jap) Tetsuro Araki -WP
The World Of Tim Burton × Big Eyes Special Presentation (US) Tim Burton - *Footage Screening
Cathedrals Of Culture (Ge-De-No-Au-Fr-US-Ja) Wim Wenders, Michael Glawogger, Michael Madsen, Robert Redford, Margreth Olin, Karim Ainouz
Chef (US) Jon Favreau
A Courtesan With Flowered Skin (US) Keisuke Toyoshima
Devil's Knot (US) Atom Egoyan
Dhoom: 3 (Ind) Vijay Krishna Acharya
The Expendables 3 (US) Patrick Hughes
Garm Wars The Last Druid (Jap-Can) Mamoru Oshii - WP
Miracle: Devil Claus' Love And Magic (Jap) Isshin Inudo - WP
The Next Generation - Patlabor - Episode 10 (Jap) Kiyotaka Taguchi - WP
The Nutcracker 3D (Jap) Sebastian Masuda - WP
The Raid 2: Berandal (Indo) Gareth Evans
Until The Day Comes (Jap) Seijiro Koyama - WP
Samba (Fr) Eric Toledano, Olivier Nakache
The Young And Prodigious T.S.Spivet (France-Canada) Jean-Pierre Jeunet
The 50 Year Argument (US-UK-Jap) Martin Scorsese, David Tedeschi
Miss Hokusai (Jap) Keiichi Hara - *Promo Reel Preview