Previewing the annual Latin American sales jamboree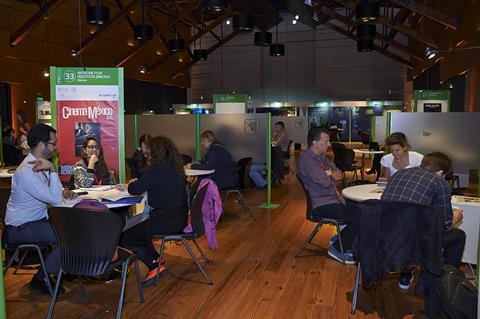 Glance at the current profile of foreign-language Oscar contenders and the winners' roster at major international festivals this year and the march of Latin American cinema in 2015 is clear for all to see.
César Augusto Acevedo's Land And Shade and Ciro Guerra's The Embrace Of The Serpent, the newly minted Indie Spirit nominee, earned four awards in Cannes, while Jayro Bustamante's Guatemala-France drama Ixcanul took honours in Berlin.
Add to that list El Clan, the Argentinian thriller that earned Pablo Trapero a Silver Lion in Venice, and producers, sale agents and festival programmers heading to Buenos Aires for Ventana Sur (November 30-December 4) have reason to be cheerful.
"What we have seen is more and more attention for Latin American films," says Jerome Paillard, executive co-director of Ventana Sur, a collaboration between Argentina's INCAA film promotion body and Cannes (Paillard also serves as executive director of the Cannes market).
"It's no coincidence. I'm not saying Ventana Sur is entirely responsible for this, but I think it has helped enable Latin American filmmakers to get better access and understanding in international co-productions and sales and also in terms of festival strategy."
Ventana Sur has blossomed from a forum for local producers of completed films to a multi-faceted event encompassing all types of film at all stages of production aimed squarely at global co-production partners and festivals.
"Latin America is a world that isn't very far from Western ideas and preoccupations but with some differences," says Paillard. "All the stories and films have been getting access on the festival stage. These films tell stories we can embrace easily. It's nice to see Ventana Sur create such excitement in the industry."
There will be 162 screenings this year and Paillard anticipates around 2,000 attendees, of which roughly 1,000 will come from outside Argentina.
The market will provide ample opportunity for one-on-one meetings, access to the extensive video library and the Producers Network programme.
The maiden European Screenings initiative will present 47 films from sales agents and for the first time Unifrance and representatives from Spain and Italy will establish themselves in the European lounge
Also new is Ventana Caribe, a tie-in with the trinidad + tobago film festival in which a handful of Caribbean films currently in post-production will be presented.
Synergies with partner festivals continue to grow. Javier Fernandez over at the Blood Window sidebar regularly hosts representatives from the world's leading genre festivals.
The robust connection with a certain event on the Cote d'Azur remains a cornerstone. "For us in Cannes, it's very important to get a better understanding of Latin America and it's certainly been reflected in bigger attendance by Latin America in Cannes," says Paillard.
Cannes Film Festival director Thierry Fremaux returns to Buenos Aires to introduce masterclasses with Trapero, Gaspar Noé and Vincent Lindon and will also screen six hits, including Carol, The Lobster and Love, aimed principally at the public, under the Semana de Cine del Festival de Cannes programme.
Blood Window goes from strength to strength. Now in its third year, the genre programme will showcase six films in post selected by San Sebastian director-general José Luis Rebordinos under the auspices of Bloody Works In Progress.
They are: Terror 5 (Argentina) from Sebastian Rotstein and Federico Roststien; Verónica (Mexico) from Carlos Algara and Alejandro Martinez Beltrán; A Percepçao De Medo (Uptake Fear, Brazil) from Kapel Furman and Armando Fonseca; Camaleón (Chamaleon, Chile) from Jorge Riquelme Serrano; La Valija De Benavidez (Argentina) from Laura Casabe; and Downhill (Chile) from Patricio Valladares.
"The diversity and quantity of projects has grown," says Javier Fernandez, a former programmer from nearby Mar Del Plata who set up Blood Window and continues to work for INCAA.
"We received around 100 projects. Last year it was 70. It's getting known by all the directors and the students and producers who know there's a market dedicated to genre film."
The Beyond The Window pitching session introduces 15 development titles from the likes of Argentine wunderkinds Adrian Garcia Bogliano and Daniel de la Vega and Mexico's Isaac Ezban, among many others.
"Every year the festivals are very interested in what we're doing," says Fernandez. "We're established as a place for co-productions and for sales agents to see what's happening for Latin America in genre films. This is the place to be."
The Primer Corte selection of Latin American co-productions, curated by Cinefondation director Georges Goldenstern, comprises six entries eligible for a range of awards.
The section includes Iván Avila's El Peluquero Romantico (Mexico); Esperanzas De Cartón by Yanillys Pérez (Dominican Republic); La Cinénega, Entre El Mar y La Tierra by Maonola Cruz (Colombia); Claudio Araya Silva's Lo Peor De Los Deseos (Bolivia); Niñas Araña by Guillermo Delo (Chile-Argentina); and Hernán Belón's Sangre En La Boc (Argentina).
Ever since Michael Rowe's Mexican drama Año Bisiesto won the Camera d'Or in Cannes 2010, Primer Corte has been a launchpad for international festival success.
Primer Corte coordinator Maria Nuñez notes the section has spawned more co-productions, but is aware that films need to travel within Latin America – still a stumbling block – and further afield.
"Most of the time, the [multiplexes] are occupied with blockbusters," says Nuñez. "[Arthouse] films are only exhibited in special weeks, often organised by embassies or cultural associations or INCAA, but they are not massive as they should be."