Matthias Schoenaerts and Michelle Williams give stern stares in the first look at the Second World War drama.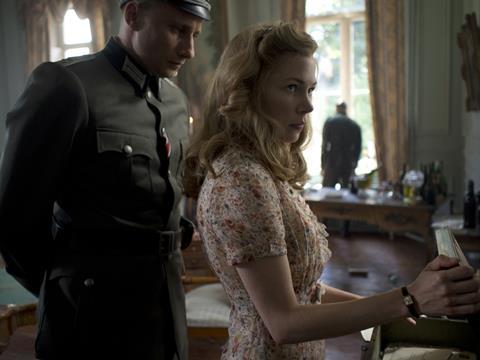 Principal photography has completed today on Suite Française, the $20m (€15m) Second World War drama from TF1 DA, eOne, the Weinstein Comany and BBC Films.
This first image from the film, which shot in Brussels throughout June, July and August, shows US actress Michelle Williams and Rust & Bone actor Matthias Schoenaerts in the leading roles of Lucile Angellier and Bruno von Falk.
Set in 1940s France and based on the international best-selling work of Irène Némirovsky, Suite Française follows Lucile who awaits news from her husband - a prisoner of war - whilst leading a stifled existence with her domineering mother-in-law.
When Parisian refugees pour into their small town, soon followed by a regiment of German soldiers who take up residence in the villagers' homes, her life is turned upside down. In the Angellier home, Lucile initially tries to ignore Bruno, the refined German officer who has been posted to live with them. But soon, a powerful love draws them together.
The story emerged from Némirovsky's journals, which her daughter finally found the courage to read 50 years after her mother's death in a concentration camp.
Other cast members include Kristin Scott Thomas, Sam Riley, Ruth Wilson, Margot Robbie, Alexandra Maria Lara, Tom Schilling, Eileen Atkins and Lambert Wilson.
TF1 DA acquired the rights to the novel in 2007 from Denoel Editions, which has since been adapted for the screen by director Saul Dibb (The Duchess) and co-writer Matt Charman.
The France-UK-Belgium co-production will be released in France by TF1 in 2014, while eOne will handle direct distribution in UK, Spain and Canada. TWC will handle the US rights, as well as distribution rights in Latin America, Australia, Russia and Germany.
Sales agent TF1 International has also sold the film in Benelux (Dutch Film Works), Scandinavia (Nordisk Film), Switzerland (Pathe), Israel (Lev Cinema) and Portugal (Lusomundo) and is in advanced negotiations for the other territories. The film is also backed by BBC Films.
Xavier Marchand produces on behalf of eOne alongside Romain Brémond, producing on behalf of TF1 DA. Qwerty Films' Michael Kuhn and Andrea Cornwell are producing and Harvey Weinstein is executive producer alongside BBC Films' Christine Langan.