Filming began in New Mexico this week on Frank and the first image shows Michael Fassbender between Maggie Gyllenhaal and Domhnall Gleeson in the iconic mask.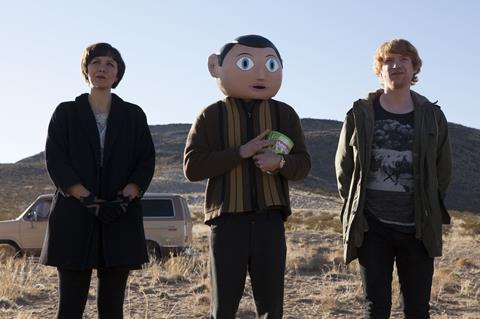 The film is directed by Ireland's Lenny Abrahamson (Adam & Paul, Garage,What Richard Did).
It is based on the memoir by Jon Ronson and is a fictional story loosely inspired by Frank Sidebottom, the persona of cult musician and comedy legend Chris Sievey, as well as outsider musicians like Daniel Johnston and Captain Beefheart.
The comedy is about a young wannabe musician, Jon (Gleeson), who discovers he's bitten off more than he can chew when he joins a band of eccentric pop musicians led by the mysterious and enigmatic Frank (Fassbender) and his terrifying sidekick Clara (Gyllenhaal).
Frank is written by Ronson (The Men Who Stare At Goats) and Peter Straughan (Tinker Tailor Soldier Spy, The Men Who Stare At Goats). Director of photography is James Mather (Adam & Paul), production designer Richard Bullock (StreetDance 3D, Spike Island). Music is by regular Abrahamson collaborator, Stephen Rennicks.
Ed Guiney produces for Element Pictures with David Barron andStevie Lee producing for Runaway Fridge. Executive producers are Tessa Ross, Katherine Butler and Andrew Lowe.
The film was developed by Film4 and is being financed by Film4, the BFI, The Irish Film Board as well as tax breaks in New Mexico and Ireland.
Protagonist Pictures are handling international sales and Artificial Eye will distribute in the UK.