Fox's 3D animation opens regionally - in Scotland and Ireland - and previews strongly nationwide.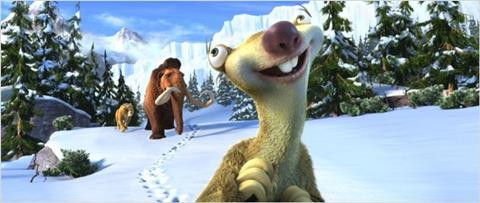 While it may not be number one when the official figures are released - where only the regional openings in Scotland and Ireland will count, and not the weekend previews across the rest of the UK - there's no doubt that Ice Age: Continental Drift has delivered an excellent opening salvo.
With a combined estimated debut of $4.8m (£3.1m), including previews, the latest in Fox's animated franchise took over double its nearest competitor, Universal's The Five-Year Engagement.
Its official opening figure, based on 134 sites (two in Border, 27 in Scotland [Cen], 11 in NE Scotland, 68 in Ireland and 26 in N. Ireland), is a strong $1.3m (£850,030) which, based on other studio estimates, should still be enough to see it chart top in the UK, which will make it one of the lowest ever debuts to land the number one spot.
The previews of $3.5m (£2.2m) will be added to its opening tally when it opens nationwide from July 13. It'll also have another two days of nationwide previews this Saturday and Sunday to add to that July 13-15 weekend tally.
Nicholas Stoller's The Five-Year Engagement jumped up one place to chart second. Universal's nuptial comedy fell only 27% on its way to a $1.2m (£765,000) weekend for $4.1m (£2.6m) after ten days in play. The second rom-com collaboration between Nicholas Stoller and Jason Segel still has some way to go to catch their first, Forgetting Sarah Marshall, which laughed its way to $12.1m (£7.7m).
Tussling closely behind were Prometheus and Men In Black 3.
Fox's sci-fi took a further $1.12m (£717,000) for a highly impressive $36.1m (£23.0m) to date - the biggest international contribution for Ridley Scott's return to the sci-fi genre; while Sony's threequel continued its solid run with $1.1m (£702,000) and has now amassed $32.8m (£20.9m) after six weeks in the UK.
Falling 46% in its second week was Fox's Abraham Lincoln: Vampire Hunter. The 3D action-horror staked an additional $628,000 (£401,000) and has taken $3.2m (£2.1m) so far.
Lionsgate's rom-com Friends With Kids enjoyed the week's second strongest opening as it charted seventh with a $561,000 (£358,000) debut from its 294 sites. The distributor's other maternal rom-com What To Expect When You're Expecting has currently taken $6.4m (£4.08m) in the UK.
In its third week, Warner Bros' musical Rock Of Ages grossed $382,000 (£245,000) and has sung its way to $4m (£2.55m) to date. On a musical-related note, the distributor's Joyful Noise opened outside the top 20 with a $50,000 (£32,000) debut.
As for the other new releases in the UK this week, William Friedkin's Killer Joe started its UK run with $326,766 (£208,553) - including previews - through eOne, while Universal's sci-fi horror Storage 24 opened disappointingly on a non-final $230,000 (£150,000) from its 287 sites with a soft average of $801 (£523).
This week sees saturation releases for Sony's reboot The Amazing Spider-Man (opens July 3) and Paramount's Katy Perry: Part Of Me (opens July 5). StudioCanal re-release Total Recall, while Soda's 7 Days In Havana, Artificial Eye's The Hunter and Momentum's The Players are among the films receiving limited releases.