The British director's SXSW short Kids Might Fly won a special jury prize in 2010 and he returns to Austin, Texas, with a story of alien abduction and teen angst.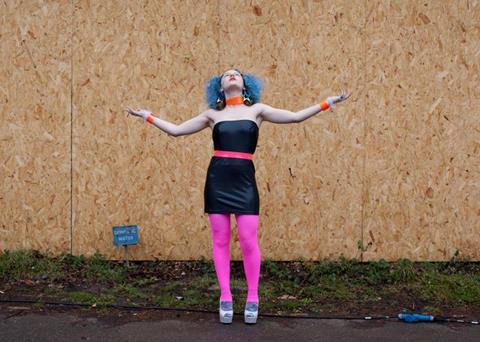 Ahead of Saturday's world premiere, the former Screen International Star Of Tomorrow talks to Jeremy Kay about escape, goth slaves and what makes him bored on set.
Bridge Independent handles international sales.
Where did the idea come from for Spaceship?
I always loved the idea of disappearing into a more colourful and exciting world and this seemed a great way to explore that idea. I think teenagers have amazing emotional landscapes inside their heads and that's where I wanted to go.
You capture the sincerity and complexity young lives in a very emotional way. Did the story take a lot of finessing over time or was what you got down in the first draft pretty much what we see?
To be honest the script was just there as a guide, like a map, into this strange and elusive teenage world. Once we got there I wanted us all to run free and find all those hidden ice caves and nuclear rainbows – and so I would tell the actors to start with what was in the script but go further. Actually that's a Miles Davis used to say: "Play what you know then go beyond that."
Did you do much research into alien abductions?
Yeah there are so many people out there who think they were abducted by aliens! I found a cosplayer called Chloe on the internet. She said she had angels trapped in her womb and that there are aliens waiting behind a distant planet who would come and destroy the world, and that she was one of the chosen ones to lead us to salvation. You just can't make that up! I made a short film about her to help us get funding for the film and she's in the feature as well… she's a very beautiful, bold, courageous soul and a good friend.
What drew you to your key cast?
I wanted actors who could be themselves on camera but also use their acting skills to augment themselves and get to places and deliver moments that non-actors can find hard. I wanted outsiders who had vulnerability but also a burning desire to be individual and different. I also needed to resonate with them personally because this film comes from a deep place from my own teenage years and I consider all the cast some of my best friends with a bond that goes way beyond just a profession.
Where and when did you shoot Spaceship?
We shot in Farnborough, which is the home of the British Army, and we shot in November 2014.

There is a very natural feel to the film. Did you rehearse much? Or allow a little improv?
Yes, to be honest I get bored unless unexpected things happen on set, so I asked the actors to improvise a lot and we did minimal rehearsals. Also a lot of the people in the film are just being themselves, I put them in that situation and let them follow their nose.
A good example is the goth slave and his mistress, Alice. Jack, who plays the slave, turned up to a street casting session dressed exactly like that, that's him, and when I put him together with Tallulah Haddon, who plays Alice, they immediately formed that slave-like relationship and it played out on camera. The kiss at the end, I only did that because I knew Tallulah had a crush on Jack, and she was pretending to be unconscious and wasn't expecting it. I wanted to see her reaction when he kissed her.
What do you hope people take away from the film?
That it's OK to be different; even that it's better to be different. And that somewhere out there will be someone who loves you for being that weirdo that deep down most of us are.
How did you get financing for it and can you give a rough idea of the budget?
We got it from a programme called iFeatures (BFI, BBC Films and Creative England). We applied with 350 people, and it was eventually narrowed down to three greenlit films. Nerve-racking!
What are you working on next?
I'm working on two exciting projects, a film and a TV series. I can't say anything else yet but they're really special to me and I look forward to sharing more when I can.