For Daniel Kaluuya, 2017 has witnessed a phenomenal breakthrough, including acclaimed global hit Get Out, shooting a Marvel superhero movie and working with Steve McQueen.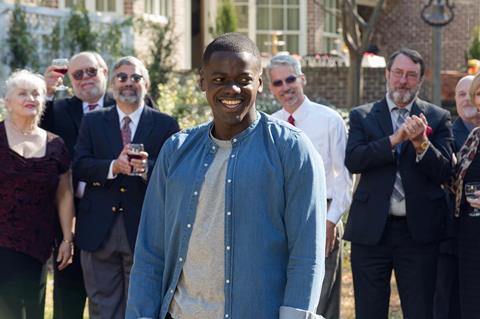 Daniel Kaluuya has had a remarkable year. The brilliant critical notices for his turn as a photographer worried about visiting his white girlfriend's parental home in Jordan Peele's enthralling Get Out are now being morphed into best actor nominations (the most notable so far being the Indie Spirit and Gotham Independent Film Awards).
Kaluuya landed a starring role in Steve McQueen's heist movie Widows, penned by Gone Girl scribe Gillian Flynn, which is based on the 1983 UK television miniseries. And his ascent to the A-list has been boosted by a major part in the upcoming Marvel superhero movie Black Panther, directed by Ryan Coogler (Fruitvale Station, Creed).
Kaluuya was on the Black Panther set in Atlanta, playing W'Kabi, on February 24, the day Get Out made its US bow, where the $4.5m picture took its first steps towards an impressive $250m global box-office haul. "It was my birthday on the date of release, so it was a weird day," recalls the Londoner, who went to see Get Out with a paying audience to celebrate. "The audience reaction was just as Jordan had predicted it would be, even down to black people screaming, 'Get out, nigga, get out!'"
He also took a call from Coogler: "He called to say happy birthday, and he told me my life was going to change. I was like, 'Nah, it'll all blow over.' So, it was a bit of a milestone day."
Get Out — which was produced by Blumhouse Productions, Monkeypaw Productions and QC Entertainment, and distributed by Universal Pictures — was the second film, after his FBI agent in Denis Villeneuve's Sicario (2015), in which Kaluuya played an American character. Working on the accent presented unique challenges. "Chris is from Brooklyn, so we have that hint of Brooklyn, New York in it, but he's also straddled two classes — he has working-class beginnings but now he's a photographer doing a middle-class, highbrow job so it couldn't be the accent of your average Brooklyn guy," he says. Due to Get Out's limited budget, Kaluuya had to employ his own dialect coach, Eleanor Boyce, often talking to her via Skype.
Peele also Skyped with Kaluuya, months before any audition happened. They met finally when Kaluuya was promoting Sicario in the US. The actor was asked to read two scenes, including the hypnotism scene. "After I did the hypnotism scene, Jordan said, 'Alright, you've got the part,'" he recalls. "I didn't believe him."
Kaluuya is the heart of a film that expertly straddles horror and satire. Get Out's central race theme was one that the actor connected with immediately. "I just knew the dynamic of being the only black guy in the room — I work in the creative arts," he says. "What it means to be an outsider. Also, Jordan and myself had a very frank conversation about what it means to be African-American and go out with a white woman."
Kaluuya's on-screen girlfriend, Rose, is played by Girls star Allison Williams, and the two actors improvised many of their scenes. "Jordan and Allison both come from improvisation backgrounds, and many of the scenes were improvised. We would map out what we needed to do and then we'd have to perform the scene in a way that feels fresh," says Kaluuya, who had previously written a couple of episodes of the popular Channel 4 teen series Skins, in which he also played the role of Posh Kenneth.
As for the hypnotism scene, Kaluuya recalls the day he shot it opposite Catherine Keener as Rose's sinister mother: "It was an intense day. I didn't talk to anyone on set. I normally like joking around, but that day I just needed to tap into my subconscious and navigate what my character is wrestling with."
A-list admirers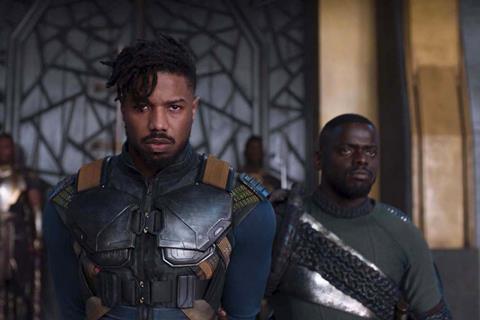 Get Out is part of a remarkable purple patch for Kaluuya in which he has worked with acclaimed directors including Villeneuve, Joe Wright on the West End stage (opposite Chiwetel Ejiofor in A Season In The Congo), Peele, Coogler and McQueen. But his success has been a long time coming.
"It's so surreal," he says. "Jordan, Steve and Ryan all saw work that I did between 2010 and 2011. So it just took time for the work I did then to really hit home. Coogler saw a short film I did by Daniel Mulloy called Baby, Peele saw Black Mirror and McQueen watched Sucker Punch at the Royal Court Theatre." Kaluuya lost three stone to play a boxer for the latter and won London Evening Standard's shooting star theatre award.
His experience on the forthcoming Black Panther has been emotional. Being part of a movie with black superheroes, "You want to give your all. To have Ryan at the helm who is so hip-hop, so unapologetically himself, it's very inspiring for me because a lot of times in this industry, you speak a certain way, or you look a certain way, and you get stereotyped."
He is also excited about Widows. "I can't wait to watch that. I mean, it's Viola Davis in a heist movie — I'd pay to see that," he says of the film, which shot last summer. "Steve McQueen just sees it like music and he calls the film a symphony and everyone is a player. He created the boundaries and parameters and within those boundaries you can do what you want."
This feature first appeared in the 21 November 2017 issue of Screen International. Click here to subscribe.