With writers such as Bridge Of Spies' Matt Charman on their books, former CAA agents Matt Rosen and Jeff Silver have LA-based management firm Grandview off to a flying start.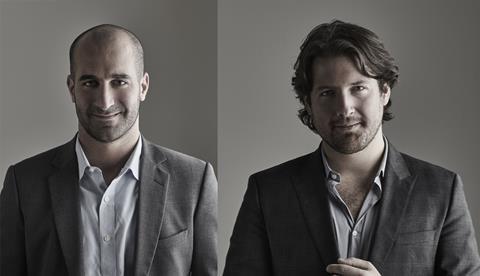 Since launching last summer, Matt Rosen, Jeff Silver and Brian Kavanaugh-Jones' Los Angeles-based management firm Grandview has grown its client base to almost 100.
While Rosen and Silver focus on repping film and TV writers and directors, Automatik Entertainment president Kavanaugh-Jones advises on packaging.
Clients include screenwriters Matt Charman (Bridge Of Spies, pictured), Mark Heyman (Black Swan) and Anna Waterhouse and Joe Shrapnel (Race). Roughly 20% of the expanding outfit's client base is international and that percentage is growing; more actor representation could follow.
Screen caught up with former CAA agents Rosen and Silver to discuss the company and the talent landscape.

One year in, what are the most important lessons you've learnt?
Rosen: Focus. We¹re one of the only management companies in the US that has a complete separation between representation and production. Our clients know their managers are not thinking about anything other than their needs.

What's your client split between film and television?
Rosen: I would say it's 50/50.
Silver: Something we look for in all our clients is diversification of creativity and ambition across different genres and platforms. Mark Heyman, the writer of Black Swan and The Skeleton Twins, is a perfect example. He's writing the feature How To Catch A Russian Spy for director Marc Webb and also a project for AMC called Marvel.
Michael Mitnick is another. He started out writing great theatre. A couple of years ago he wrote a script called The Current War, which is going into production this fall with Alfonso Gomez-Rejon directing for TWC and Jake Gyllenhaal and Benedict Cumberbatch on board to star.
Off of that, he wrote an early version of Paul Thomas Anderson's Pinocchio at Warner Bros. But we wanted to make sure he was exploring other pursuits as well so he just wrote on the new series of HBO's Vinyl and he sold a feature idea to Big Beach Films for him to direct. There's a lot of stuff to juggle, a lot of stuff to focus on. We need to make sure all the trains keep running.

What is Brian's role in the company today?
Rosen: We started the company with the belief there would be a complete separation of church and state, which has remained. We do not have a first look with Brian on films. If the client wants to show Brian film scripts, we're happy for them to be doing that. But we advise that they should show it to a couple of people and get a sense of what they feel is the best fit.
Is the demand for UK-originated content growing in the US?
Silver: There has always been that association of British writers and film-makers with elevated content. That's now been crossbred with a global access to every piece of content that you could want.
Rosen: I think the biggest headline is that creativity and talent know no borders.
Silver: There's something exciting and challenging about breaking a voice in the States. Nothing beats the face-to-face meeting so we've tried to pick the right time for our clients to come out here and plan the best strategy for them.

Who are the UK names you have recently signed?
Silver: The writer Charles Cumming is one of the premier spy novelists in the world right now. We've worked with CAA to help bridge him into the feature space, which has been really fun.
He sold a book series [A Foreign Country] that he's going to be working on to Colin Firth¹s company Raindog. He also sold an original idea to StudioCanal.
Joe Shrapnel and Anna Waterhouse are among the most high-end, undiscovered talents in the UK. They wrote the Jesse Owens biopic Race. We're hopeful for Berlin for that. Their range is incredible — they've just written Circle Of Treason at Focus Features, which is about the two women who took down one of the CIA's biggest moles, Aldrich Ames.
Christian Contreras is an American actor-writer living in London. His script LAbyrinth is being packaged now, and he came out about eight months ago to pitch an idea called Principia, a sort of Isaac Newton detective-type tale. He sold that for six figures to Warner Bros.

How about the rise of Matt Charman?
Rosen: We're hopeful Patriot's Day with Peter Berg will shoot next year. He is writing a pilot called Lethal at CBS. Carl Beverly and Brian Kavanaugh-Jones are producing.

What's the biggest challenge facing management companies today?
Rosen: There's a very blurred line between management and production. Clients want to know that their agenda is their manager's agenda