At a time when the BBC's prosperous film arm is one of the UK's only stable ports of call for independent producers, its new creative director talks to Geoffrey Macnab about her editorial and commissioning strategy and her debut slate.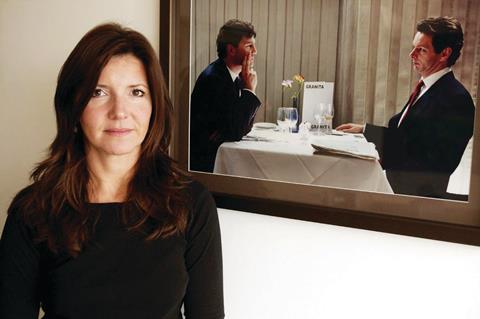 With the UK Film Council facing cuts and debate over its mooted merger with the British Film Institute, and with Film4's parent Channel 4 under financial pressure, the BBC's film arm is one of the few fixed and steady points on the UK's film financing landscape.
"The absolute mainstay of what we produce will be proper editorial choices with mostly British producers"

Christine Langan
With an annual budget of $18m (£12m) - an increase of $3m (£2m) from 2008-09 - for production, development and overheads, plus staff of approximately 20 and a commitment to make eight films a year, BBC Films' resources are hardly enormous. However, it is arguably more important now than ever before to an increasingly fragile UK production sector.

The stability at BBC Films will strike many as surprising. After all, in the last two years, the outfit has faced its own upheavals. It lost its long-term boss, David Thompson, who went on to form Origin Pictures, in 2008. It moved from its offices in central London back to the BBC's headquarters in White City. Then, in January, BBC controller of fiction Jane Tranter left the UK to join BBC Worldwide in Los Angeles.

In the wake of all this change, Christine Langan, who became creative director at BBC Films earlier this year, has assumed an ever more influential role. She leads the editorial strategy and commissioning of the BBC Films slate, working alongside managing director Jane Wright, who is in charge of business operations and marketing Langan's reputation is as a producer who has both the populist touch and is also "film-maker friendly".

Before she joined the BBC, Langan had already amassed a string of credits on successful and critically acclaimed dramas such as long-running ITV series Cold Feet, Stephen Frears' The Deal, made for Channel 4, and Frears' Oscar-winning theatrical film The Queen.

She still takes a hands-on approach to both the projects she inherited ­ such as In The Loop, Fish Tank and Bright Star ­ and the ones she has initiated.
"Without being invasive or cramping anyone's style, I feel we should be in the field with the film-makers," says Langan. "We only make eight [films] a year.

They are like children. You need to know every hair on their head!" Ask her whether being at BBC Films is similar to her work with producer Andy Harries at Granada and she laughs: "Oh, God, no! It has been a huge learning curve… there is nothing like being at the BBC to see how it really works."
Different paths

The debate about just what kind of movies BBC Films should be supporting is unlikely ever to be fully resolved. Should it go down the Revolutionary Road route or the Red Road route (to cite two radically different films it has supported in recent years)? The former starred Leonardo DiCaprio and Kate Winslet. The latter, a debut feature, won a prize in Cannes, but received only moderate viewing figures when it surfaced on the BBC.

Langan won't "close the door" on star-driven, US-set projects like Revolutionary Road, but says such movies won't be the priority. Nor will "star-value" itself be enough to warrant investment in a film. Instead, Langan would like BBC Films to be defined by its "rigour".

"Ultimately, BBC Films needs to have a pretty strong editorial voice. We only get to make eight films a year, so it's kind of a shame to have them happening 'over there somewhere'. But once in a while, that's legitimate, if it's bringing value back to the BBC and to its audiences," she says. "The absolute mainstay of what we produce will be proper editorial choices with mostly British producers."

Langan is keen to ensure that BBC Films continues to back auteur cinema by the likes of Red Road and Fish Tank director Andrea Arnold, even when such fare isn't always a surefire ratings winner. The trick is to strike a balance. "Within those eight films, there will always be place for an auteur-type, authored film where the pure values of cinema are absolutely supported," she says.

"Ultimately, those eight are an eclectic mix. Of course, there will be something at that end of the spectrum. I can't guarantee that there will be something of that ilk to get involved in every year, but I will definitely be looking out for that kind of film-making." She cites 3D dance movie StreetDance, which stars Diversity, this year's winners of ITV's Britain's Got Talent contest, as an example of a new BBC Films-backed project that is both innovative and also possesses strong mainstream appeal.

Traditionally, BBC Films has worked very closely with heavyweight US names such as Harvey Weinstein, Scott Rudin and James Schamus. Obviously, these are tough times in the US specialised film market. However, Langan hopes such relationships will continue. "The effects haven't been entirely felt yet," she reflects on the recent cutbacks at Miramax, for many years a close partner of BBC Films, and the shrinkage and closure of specialty divisions in the US.

She suggests that it is widely accepted now that "there were too many films". Around awards time, the feeling of congestion was at its height. "It's got to correct itself given the current economic climate." Closer to home, one battle being fought by BBC Films is to ensure that its movies are better served by the BBC schedulers.

The aim now is to build a stronger home for BBC Films on BBC Two. In certain cases, the corporation will "buy out" the pay-TV window so that BBC viewers don't have to wait quite so long to see BBC Films-backed movies, such as The Damned United.

"As I get to see the films that I have been responsible for coming through, I want absolutely to ensure that they are going to sit in the schedule at a good time," Langan says.
Greater integration

BBC Films is now a part of BBC Fiction, and Langan is talking up the importance of working with the talent pool available in the BBC as a whole.
"There is more acceptance and understanding of what we're doing. We feel more part of the team," she says of BBC Films' move back into the main fold of the corporation.

There is a paradox, though: BBC Films needs to be outward-looking at the same time as it seeks to harness the BBC's internal strengths. That means attracting international talent, such as Japanese-American director Cary Fukunaga (Sin Nombre), to direct Jane Eyre with Michael Fassbender already cast as Rochester.

Or Michelle Yeoh, who is attached to play Burmese political leader Aung San Suu Kyi in a biopic being developed in partnership with Andy Harries' Left Bank Pictures.

As well as Jane Eyre, the division is involved in other "known brands" based on what Langan refers to as "loved iconic material". These include Stephen Frears' Tamara Drewe, based on Posy Simmonds' comic-book serial (now shooting and due for UK release through Momentum Pictures in 2010), or new films of Thomas Hardy's Far From The Madding Crowd, scripted by David Nicholls, and Edith Wharton's The Buccaneers, adapted by Heidi Thomas.

BBC Films also has a new project with Langan's longtime collaborator Peter Morgan called 360, a contemporary take on Arthur Schnitzler's famous play about love and infidelity, La Ronde.

With younger audiences in mind, BBC Films is also developing Cherub, a James Bond-style franchise for teenagers, as well as other family-themed projects, such as Arthur Ransome classic Swallows And Amazons and Peter Pan In Scarlet. Author, actor and broadcaster Stephen Fry is writing and will direct Hallelujah!.

BBC Films is also developing Six Suspects, a new film that John Hodge is adapting from Slumdog Millionaire author Vikas Swarup's novel of the same name.
There is, says Langan, a wealth of projects coming out of the UK and she insists that, for the UK industry to thrive, there should be multiple points of call for producers: Film4 and the UK Film Council need to be strong, along with BBC Films, as key funders.

"[UK film] is fragile. We're a very interdependent ecology. It is very important for us that Film4 is maintained and supported and the UKFC is a vital collaborator," she reflects. "The British film industry is utterly dependent on the three of us."
CHRISTINE LANGAN
Born 1965 in London.
Studied English at Cambridge University.
1987-1990: Worked as a copywriter in the advertising industry.
1990-1991: Worked for Tessa Ross as an assistant developer at British Screen.
1991-1992: Hired by David Liddiment at Granada to work as a script editor on drama serials.
1993: Started working for Andy Harries in Granada TV's comedy department.
In 1996, she made the pilot for the Granada-produced Cold Feet, spending five years on the subsequent hit series.
Producer of Bristol-based mini-series I Saw You (2000), written by David Nicholls and starring Fay Ripley.
As a freelancer, produced Tiger Aspect's drama series Rescue Me for the BBC (broadcast in 2002) and also directed on the show.
Returned to Granada to work with Andy Harries, then controller of drama.
Produced Stephen Frears' TV film The Deal (2003) and TV drama Dirty Filthy Love. Produced her first feature, Pierrepoint, in 2005, followed by The Queen (2006) for which she won an Oscar nomination.
Joined the BBC in 2006, bringing The Damned United with her. Appointed creative director of BBC Films earlier this year.