Israeli filmmaker Ofir Raul Graizer describes the eight-year journey to screen of his buzzed-about Karlovy Vary title.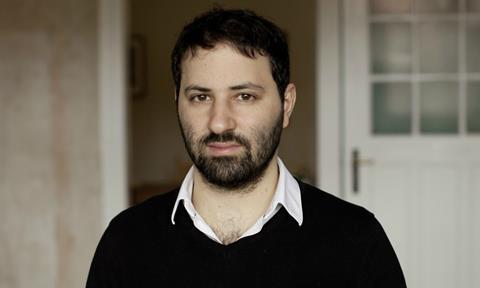 Israeli-born filmmaker Ofir Raul Graizer's The Cakemaker is a stark and dramatic debut feature about hidden love and the human urge to create connections. Young Berlin baker Thomas begins an affair with Oren, who visits Germany on a regular basis for business. Back in his native Israel, Oren has a wife and child he dotes on.
One day Oren stops visiting and Thomas discovers he has died in an accident. Distraught, Thomas heads to Jerusalem where he meets Oren's widow Sara, who works in a café. He soon finds himself working behind the counter and getting closer to Sara. But Sara doesn't know his secret and Thomas must be careful that nothing is revealed.
A film of intense passion and emotion, The Cakemaker was inspired by real-life events.
"I knew a person who had a double life, he had a wife and children and secret lovers on the side," explains Graizer. "One day I was told by his wife that he had died. I knew I had to make a film about this because it related to questions that have always been essential for me: questions of hiding my identity, living between different worlds, secular and religious, gay and straight, and other things."
It's been a lengthy process to get The Cakemaker onto the big screen. The film has appeared at numerous pitching and project markets over the past few years, including Jerusalem Film Festival's Pitch Point event and the Berlinale Talent Campus. Films Boutique are handling international sales.
"It took eight years," reveals Graizer. "The main reason was that we did not receive funding from the big funds, only a small amount from the Jerusalem Film Fund, who believed in us from the very beginning. Eventually there was a point where it was either we give up or shoot."
"We [producer Itai Tamir and co-producer Mathias Schwerbrock] said, 'No, we will not give up' and set out for a crazy guerrilla adventure and shot the film. One week after the end of shoot, we applied for post-production funding from the Rabinovich Foundation, who supported us. It was basically lots of risks taken, lots of miracles, and a devoted crew who took part in the film simply because they liked the script."
Casting the leads
In many ways, The Cakemaker is an ironic film. Religion and tradition are meant to bring people together but, in Graizer's narrative, they can also isolate and separate them.
He elaborates: "Tradition has so many roles in connecting people such as placing the whole family for a dinner on Shabbat every week, singing and praying together. These things are very intimate in a good way. But they have a dark side: they can limit one's individual self and appreciation of otherness."
"It is 'anti': anti-women, anti-gay, anti-freedom. [Showing] these negative aspects was essential in the film because eventually they are the path from which the characters are able to find their own private redemption."
Crucial to Graizer's ability to tell his story successfully was the casting of Tim Kalkhof and Sarah Adler in the roles of Thomas and Sara.
"I actually met Sarah five years before we shot, talking about what was then a treatment," explains Graizer. "Before production I didn't believe the film would happen but eventually she joined us and was fully devoted to the role."
"With Tim, I was looking for my baker for a long time and after 100 show reels and 20 auditions I finally found him. I didn't have the luxury of doing a mutual audition but I had a feeling about them. They both arrived in Jerusalem a day before the shoot, so we didn't even have rehearsal time. I just put them in the kitchen of the café and we started shooting. And it worked."
Future projects
The Cakemaker has its world premiere tomorrow [July 4] in Karlovy Vary's Official Competition. Graizer is thrilled by the prospect.
"It was a real surprise for me when I got the invitation, and I was extremely joyful, after all these years of fighting to get this done and to be in Karlovy Vary with the film," he says.
"On the practical side, I hope the film will be invited to more festivals and get a wide distribution. I have worked for so long and so hard on this film, I gave so much for it, from working in terrible restaurants to editing porn to cleaning houses… I think it deserves to go out into the world and find a big audience."
As he prepares for the premiere of his debut film, Graizer also has one eye on the future.
"I have a few projects on my desktop whilst also dreaming about directing other's people scripts," he says. "I am mostly working on a script called The Dream Of The Shepherd. It's very different from The Cakemaker, very political. It's about a man who decides which foreigners can get a visa to Germany; he is basically a sadist who treats refugees in a degrading way. Then one day he starts developing an obsession towards a painting, and it leads him to become another person."
"It's a strange story - very personal and painful - that I want to tell. I am trying to get the script development financed so we'll see how this goes. I hope this one takes less than eight years."