Fresh from a BFI London Film Festival award, South African filmmaker John Trengove tells Screen about combining a gay theme with a traditional African context for bold debut The Wound.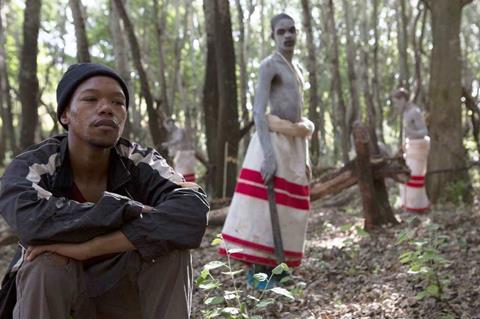 "It's an exciting time to be making queer cinema," John Trengove says, speaking from Johannesburg shortly after his film The Wound won the Sutherland Award for best feature debut at the BFI London Film Festival. "There's a new responsibility to be bold and to reach further than the form has allowed in the past."
The Wound is certainly bold. It combines two potentially taboo subjects: same-sex desire and Ulwaluko, a secretive rite of passage for boys from the Xhosa community. "In the past, there was a feeling that queer cinema was limited in its scope, who it could speak to and what it could speak about," remarks Trengove. "It feels now like the medium is branching out. That's what we felt about this film. Just bringing the two ideas together — the queer narrative and the rite of passage to manhood — suddenly we were able to speak about race, class and privilege, modernity and tradition."
The decision to combine a gay theme with a traditional African context was not taken lightly. Trengove was aware the subject matter — and the fact he, as a white South African, was an outsider looking in on a closed ritual — would ruffle feathers. "I took a long time to finally commit to doing this," admits the young director, who addressed his own reservations, and anticipated those of the audience, by carefully choosing collaborators and researching meticulously.
The project's genesis was a series of conversations between Trengove and Batana Vundla, who serves as co-producer. "He is Xhosa, and he is a gay filmmaker like myself," he says. "We started speaking about the possibility of making a queer South African film." At that time, Uganda had imposed the death penalty for same-sex relationships, while Zimbabwe's then-dictator Robert Mugabe was decrying homosexuality as a threat to African culture. "So from the get-go, we thought it would be interesting," he adds. Another key collaborator was Xhosa author Thando Mgqolozana, whose novel A Man Who Is Not A Man dealt with the initiation ceremony, and who served as a co-writer on the project.
The Wound focuses on three characters. Xolani (Nakhane Touré) is a lonely factory worker who returns to his home community to serve as a caregiver to an initiate during the ceremony. It soon becomes clear his main motive is to reunite with fellow caregiver Vija (Bongile Mantsai), who is married with children but is Xolani's lover when the opportunity presents itself. The third character is Xolani's initiate Kwanda (Niza Jay), a teenager whose privileged city upbringing marks him out as an outsider to the other boys.
Subverting expectations
Acutely aware of his own outsider status, Trengove initially wrote the screenplay with Kwanda as the central character. "I saw him as a surrogate for myself, someone who could speak some of my own ideas about the world and about personal freedom," he says. "But the script only became interesting when I inverted that and made that character kind of the antagonist, the one who creates crisis for the other characters. That was an interesting way for me to subvert my own presence in the story."
Perhaps unsurprisingly, news of the film sparked hostility from conservative members of the Xhosa community. But, remarks Trengove: "Once people see the film, the conversation becomes much more diverse. There are many strong supporters of the film, particularly in the queer community. But even within the traditional Xhosa community, it has created a lot of dialogue. While it doesn't show anything that isn't already known, the fact it is there, exploring ideas about masculinity, has sparked some interesting debate."
Kino Lorber has acquired The Wound for all rights in the US. Other territories sold include Germany, UK and France, where Pyramide International, also the international sales agent, will release.