The latest Marvel outing debuts to an impressive $21.3m (£13.7m) through Disney to dethrone Olympus Has Fallen.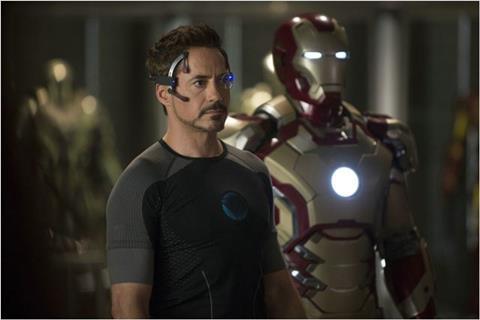 Kicking of Marvel's Phase Two with a bang, Iron Man 3 has rocketed to the top of the UK box office.
Disney's 3D superhero outing scored a mighty $21.3m (£13.7m) opening, including $3.6m (£2.3m) in previews, to record the second biggest Marvel opening in the UK, behind Marvel's Avengers Assemble's $24.5m (£15.8m) debut last year.
Iron Man 3 has already overtaken the entire UK runs of The Incredible Hulk ($12.9m/£8.3m) and Captain America: The First Avenger ($14.7m/£9.5m), and will shortly overhaul Thor's $21.8m (£14m) haul.
The next targets in its sights will be its predecessors Iron Man ($27.1m/£17.4m) and Iron Man 2 ($32.9m/£21.2m).
Avengers Assemble is the top Marvel performer in the UK at a formidable $80.6m (£51.9m) and Iron Man 3's holdover will go a long way towards outlining if the threequel can hope to challenge that.
Also for Disney, Oz the Great and Powerful has amassed $23.3m (£15m), while Wreck-It Ralph has taken $36.5m (£23.5m). The Odd Life of Timothy Green is up to $1.5m (£984,254).
Last week's champion Olympus Has Fallen dropped to second, shooting its way to a further $1.4m (£913,370) for $6.2m (£4m) to date through Lionsgate.
That result means it is now director Antoine Fuqua's second best UK performer, behind only King Arthur's $11m (£7.1m) result.
Universal's Oblivion is likely to cross the £10m mark this week after a $1m (£669,000) weekend saw it to $14.7m (£9.4m) after three weeks in release. It's now just under £1m away from overtaking Tron: Legacy's $16.2m (£10.4m) UK tally.
Dropping just 11% in its sixth weekend, Fox's The Croods grossed $935,000 (£602,706) for a highly impressive $38m (£24.5m) to date, while Trance is up to $6.9m (£4.4m).
Rounding off this weekend's top five was StudioCanal's Evil Dead, which scared up an additional $835,000 (£538,564) for $4m (£2.6m) after two weeks in play.
Also for StudioCanal, The Place Beyond the Pines continued its healthy run, adding $654,000 (£422,035) for $3.7m (£2.4m), while The Look of Love opened in 139 sites resulting in a $323,000 (£208,557) debut, including previews.
That result marks director Michael Winterbottom's third best UK opening, behind A Cock and Bull Story ($516,000/£332,582) and 24 Hour Party People ($411,000/£265,428).
Recording the best holdover of last week's new entries, Arrow's Love Is All You Need added $200,000 (£129,011) to climb to $786,000 (£505,770) after ten days in play.
Paramount's G.I. Joe: Retaliation is now up to $11.5m (£7.4m) after five weeks.
This week sees saturation releases for eOne's 21 and Over and Dead Man Down, as well as for Vertigo's All Stars. Disney's Chimpanzee and Fox's I'm So Excited receive a wide release, while Soda's Gimme The Loot and StudioCanal's Ernest & Celestine are among the films receiving a limited release.
For more of Screen's box office news, analysis and charts, visit our Box Office section by clicking the icon below.