New projects are heading to The Holy City as fund helps grow inward investment and local incentives.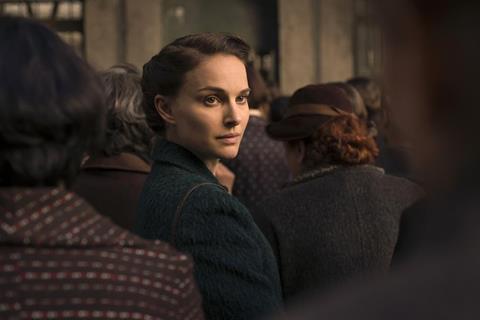 The upscale German Colony neighbourhood in Jerusalem will become a film set when Avi Nesher's much-anticipated English-language feature Past Tense shoots there this autumn.
UK actress Ruth Wilson is reportedly in talks to star in the drama as a visiting US psychologist who becomes embroiled in a child custody case involving a friend who has joined a cult.
Produced by Anthony Bregman, Past Tense would be the latest high-profile production to shoot in Jerusalem in the past 18 months.
The city has recently played host to Natalie Portman's A Tale Of Love And Darkness, which chronicles novelist Amos Oz's childhood in 1940s Jerusalem, and Joseph Cedar's New York-set Oppenheimer Strategies, starring Richard Gere as a man whose life is changed by a chance meeting with a politician.
The big draw
One of the draws for these productions was the support of Jerusalem Film & Television Fund, set up seven years ago to kick-start the audio-visual sector in the city. All three projects mentioned above received support from the fund.
"Our aims are as much industrial as cultural," says Yoram Honig, director of Jerusalem Film & Television Fund and a driving force behind the city's bid to attract the film and television business.
"We want to generate jobs and to retain and attract young talent and creative people to Jerusalem. Three of the country's top film schools are based in the city but their students traditionally head to Tel Aviv for work once they've graduated. We want to create work for them here," he says.
The fund's efforts have received a welcome boost after proposals to reinforce its international cash rebate, raising the maximum rebate ceiling, were officially approved at the beginning of July.
"The rebate is the only Israeli incentive for international productions," says Honig.
Under the revised system, international productions will be eligible for a cash refund of 60% on the budget spent in Jerusalem up to a ceiling of $2.6m (ils10m). Previously, this was capped at around $370,000 (ils1.4m).
To qualify for the revamped incentive, a production has to spend at least $2.1m (ils8m) of its production budget in Israel, be based for at least 50% of its Israeli shooting days in Jerusalem, and devote at least 25%, or no less than $530,000 (ils2m), of its Israeli budget to the city.
International productions due to tap into the rebate this year include crime-thriller series Jerusalem, co-produced by Israel's Inosan Productions, France's Haut et Court TV and Germany's Nadcon Film.
Cedar's Oppenheimer Strategies, which received an initial $422,000 (ils1.6m) from the fund, may also qualify for the rebate.
Local boost
Alongside its incentives for international productions, the fund also backs local productions set and shooting in the city, investing up to $264,000 (ils1m).
In return the production must spend 1.3 shekels in the city for every 1 shekel invested by the fund. As the Ministry of Finance backs the fund rather than the Israel Film Council, it can be combined with grants from the other big state-backed supports, including the Israel Film Fund and the Rabinovich Foundation's Cinema Project.
"That's why everyone loves us," says Honig. "We're not competing with anyone. We're extra money for Israeli cinema as well as big films on the international side."
To date, the fund has invested in more than 40 Israeli features including Cedar's Footnote, Yuval Adler¹s Bethlehem and Eran Riklis's A Borrowed Identity (originally titled Dancing Arabs).
A handful of grantees will be screening here Jerusalem Film Festival including Competition titles such as Tova Ascher's identity swap drama A.K.A. Nadia, Avishai Sivan's Tikkun, about a promising ultra-Orthodox religious scholar who undergoes a character change after being brought back from the brink of death, and Yoav and Doron Paz¹s Old City zombie caper JeruZalem, which received a work-in-progress screening.
Drawing support
Jerusalem Film & Television Fund runs a special incentive for animation work, offering a 35% rebate on every dollar spent, which has already attracted several high-profile projects including a new Disney TV series, the details of which are under wraps, Albert Hanan Kaminski's Being Solomon and Los Angeles-based The Operating Room's Polarizers.
"These three projects alone will generate $5m in investment in the city," says Yoram Honig, director of Jerusalem Film & Television Fund.
The fund has also supported five Israeli animated projects to date and backed a new animation studio, a branch of the respected PitchiPoy Animation Productions in Tel Aviv, to the tune of $132,000 (ils500,000).