John Turturro tells Lee Marshall about life overlapping art, working with director Nanni Moretti and why he's keen to catch up with Ronit Elkabetz.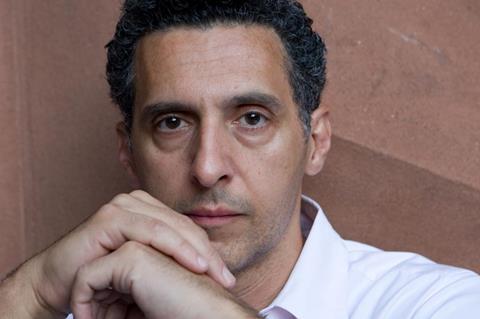 Nanni Moretti's latest feature, My Mother (Mia Madre), which opened the Jerusalem Film Festival this year, is about the death of a mother.
But it's also about the way those whose job it is to tell stories can experience a dislocation of reality when the drama from which they make a living enters their own lives.
The film centres on a brittle, neurotic director with a social conscience (an excellent, nuanced Margherita Buy), embroiled in an almost certainly doomed attempt to shoot what she calls a "positive, energy-filled" film about laid-off workers. Her mother is slowing dying in hospital, and it is her long-suffering brother, played by Moretti himself, who takes on the burden of carer while Margherita watches her life and her film unravel.
One of Margherita's many problems is Barry Huggins, the US actor played by John Turturro who she has cast as the ruthless, cost-cutting foreign boss of the factory in her film. When she goes to pick him up at the airport, late as usual, he is asleep, and awakes in terror from a nightmare in which Kevin Spacey was trying to kill him.
"I did dream about being pursued by Kevin once when I was in Rio," Turturro laughs. "I told Nanni about that, and he worked it into the script. I must have been watching House Of Cards too much."
Huggins turns out to be a self-obsessed mytho-maniac who brags about working with Stanley Kubrick and is chronically unable to remember his lines. Turturro has great fun with the role, strutting and bluffing but also revealing the vulnerability of a character who is terrified of being unmasked as a pompous fraud.
A profession of fear
Turturro reveals when he first read the script he immediately understood the character. "I've worked with people who can hijack a movie but in my profession there's also a lot of fear, there's very little security, that's part of the job description."
He has known Moretti for a while, ever since the director programmed Turturro's directorial debut, Mac (1992), at the Nuovo Sacher, the cinema he owns and runs in Rome.
Later, Moretti tried to talk the Italian-American actor into playing a cardinal in his papal comedy drama We Have A Pope (Habemus Papam) but other commitments got in the way.
This time, when Moretti sent Turturro the script via Italian producer Domenico Procacci, the actor jumped at the chance to be part of a story "that resonated with me not just because I've also lost a mother, but because I thought the life of the director at the centre of the story was really interesting. She's someone who's not really living a real life. She's there and not there, like many creative people."
Famously obsessive on set (the Buy character is a fairly transparent alter ego), Moretti was, says Turturro, fascinating to work with. "He's a smart and complicated guy. He does a lot of takes but at the same time he wanted me to improvise. There were times when I went way off course and had to drag myself back."
Whole scenes, such as a bookstore dance sequence that took a day to shoot, ended up on the cutting room floor. "It was challenging and stimulating," says Turturro. "But I could never direct that way myself. I never have that much time."
It was his role in Francesco Rosi's adaptation of Primo Levi¹s The Truce (La Tregua), released in the US as The Reawakening, the saga of the Italian Jewish author's long journey back from Auschwitz-Birkenau between January and October 1945, that reawakened Turturro's interest in his Italian roots. His father was from Puglia, his mother Sicilian.
"Rosi introduced me to a lot of things: Italian literary classics, the theatre of Eduardo De Filippo, the culture of Naples," he explains.
Passione, Turturro's documentary about Naples' vibrant musical heritage, premiered at Venice Film Festival in 2010, and the next year he secured an Italian passport. It has clearly rubbed off on him: Turturro's character in My Mother is supposed to speak awkward, halting Italian, but at a certain point, he says, Moretti told him his accent was too good, and asked him to "re-foreignise" it.
Turturro was at Jerusalem Film festival to support the film's screening. It was his first time in the city. He is a fan, he says, of cities with layered histories and cultures, and also a fan of actress and director Ronit Elkabetz, whom he met in Cannes a few years back with her brother and creative collaborator Shlomi.
Would he like to work with her? "Definitely, she's next on my wish list."