Locarno's artistic director Carlo Chatrian talks to Wendy Mitchell about how the festival gets its balance of diverse programming just right.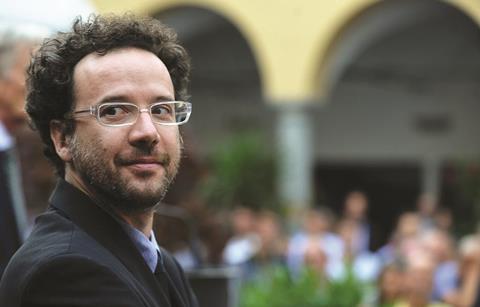 Locarno is a special kind of festival that is known for showing a range of cinema: envelope-pushing new voices, inspired retrospectives and crowdpleasers in the Piazza Grande. That kind of diversity is very important for artistic director Carlo Chatrian.
"I hope that every section has its own balance and its own way of representing the diversity of cinema. Each section can speak to different kinds of audiences. Filmmakers of the Present is to discover new talent, so most of the films are very challenging in terms of storytelling or narrative forms but we have a few very straightforward films.
"For the Piazza Grande, we shift that balance. There's more room for popular, commercial films," he adds.
Of course, the main competition is a showcase for a number of important film-making voices. "The main competition will be composed of not only up-and-coming directors but also established ones," Chatrian explains.
There are films by the likes of Hong Sang-soo (Right Now, Wrong Then) and Chantal Akerman (No Home Movie); Greek director Athina Rachel Tsangari's Attenberg follow-up Chevalier; Alex Van Warmerdam's unusual comedy Schneider vs. Bax; as well as first timers such as Josh Mond's Sundance title James White; and a collective effort, Heimatland, from a new generation of 10 Swiss directors.
Chatrian is also proud of the female-centric stories in 2015's programme.
The Piazza Grande will open with Jonathan Demme's Ricki And The Flash, written by Diablo Cody. "The story is about a mature woman [Meryl Streep] who left her family to pursue a career in music. This is not the usual American dream, this is a different kind of woman," Chatrian says.
Judd Apatow's latest film Trainwreck, written by its star Amy Schumer, also gets a showing, as does Catherine Corsini's La Belle Saison, a French drama starring Cécile de France, set in 1971 telling a love story between two women.
The Signs of Life section, which launched in 2014, turns the spotlight on cinema's new voices.
"These films are new experiments, not just 'experimental films' but looking at new ways of storytelling," Chatrian explains.
Selections include L'accademia Delle Muse by Jose Luis Guerin, about a professor's lesson on love; Qui Jiongjiong's Mr Zhang Believes, a visually arresting film from China about a man in a labour camp; and L'infinita Fabbrica Del Duomo, by Italian artists Massimo D'Anolfi and Martina Parenti telling the story of the Milan cathedral.
Look and learn
There has been some controversy on the industry side, with a petition circulating against the Israel Film Fund partnering with the festival - Israeli cinema is the territory of focus for the First Look section (formerly Carte Blanche), which presents films to the industry as works-in-progress.
Chatrian said the festival stands by its plans. "This is a project that is devoted to helping Israeli film-makers to finish their films. Israeli cinema is one of the most interesting industries today. There is an interest from all the professional community - programmers, festival directors and buyers - in these projects. First Look really doesn't want to be pro or against the political situation; it doesn't want to give a platform for political speeches."
Locarno's international reach also extends to a new co-operation with Karlovy Vary International Film Festival, which took place in the Czech spa town in July. The festivals share one film with each other: Karlovy Vary screened Tosca's Kiss by Daniel Schmid, and Locarno will screen Invention For Destruction by Karel Zeman.
As Chatrian says: "People may consider festivals competitors but festival programmers know each other and when we have a chance to co-operate it's a joy for us."
Locarno also has a new collaboration with Art Basel. The festival has conceived a programme dedicated to Irish artist Duncan Campbell, and Art Basel will curate Voices From The Off, comprising five short films to screen at the festival.
All of these stimulating screenings return to that goal of cinema's great diversity in 2015. "I try to find this difficult balance between cinema's artistic value and its commercial one," Chatrian says. "Without being the work of an artist the film and cinema is not so interesting, but without a commercial feedback, film doesn't exist. This is the balance I try to look at in an ongoing process every year."