Film about female empowement in a conservative Bedouin community wins showcase.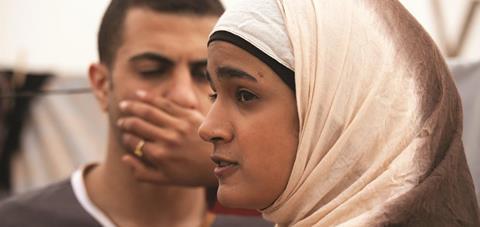 Elite Zexer's first feature Sand Storm and Eitan Anner's A Quiet Heart have won the First Look Award in Locarno's showcase, which was dedicated this year to selected Israeli films in post-production.
Jury member Karel Och, director of the Karlovy Vary International Film Festival, presented the first prize of $66,000 (€60,000) worth of picture post-production services sponsored by Rotor Film to Sand Storm's producers Haim Mecklberg and Estee Yacov-Mecklberg for its "mature, deeply observant storytelling and courageous depiction of the layered struggles of several generations of women".
Sand Storm centres on a Bedouin mother and daughter testing the limits of their conservative community.
Fellow jury member, Sundance senior programmer John Nein handed over the second prize - $6,000 (€5,500) worth of advertising donated by the French trade magazine Le Film Francais - to A Quiet Heart's producer Gal Greenspan of Green Productions for its "urgency and originality in addressing the complexities and tensions of contemporary Jerusalem".
A Quiet Heart explores the growing strength of the ultra-orthodox movement in Jerusalem through the tale of a secular concert pianist, played by Ania Bukstein, who moves to the city from Tel Aviv.
Och and Nein had made their decisions together with a third jury member, Busan programmer Soue-won Rhee.
The Israel Film Fund had submitted a total of 11 films to be considered for selection for the showcase, previously titled Carte Blanche and focused until this year on films from South America.
The selection had included Eyal Halfon's Israeli-German co-production The 90 Minute War, represented in Locarno by associate producer Tammy Cohen, Miya Hatav's debut feature Hope, represented by Daroma Productions' Elad Peleg, and two second feature from veteran producers Marek Rosenbaum (Meni Yeash's Our Father) and David Silber (Haim Tabakman's Ewa)
Speaking at the ceremony, the Israel Film Fund's executive director Katriel Schory said that participants of the Industry Days had been able to obtain "an insight into this very turbulent society we live in, the kind of multi-cultural frictions we have in Israel. This came across in the six films we showed here and I think the jury had quite a difficult job to make their choice between the six."
In an allusion to the protests from some quarters, which had accompanied Locarno's decision to choose Israel for its First Look showcase, Schory thanked artistic director Carlo Chatrian, head of international Nadia Dresti and festival president Marco Solari for their support.
"I know that it wasn't easy having us here this year and there were ups and downs, but I think all of us here believe in the complete creative freedom which is an absolute must for every filmmaker and artist," Schory said.
"And, in this spirit of total creative freedom, you invited us and gave us this unbelievable platform for which we are very grateful and don't take for granted."
Other news
Arab Focus in Winterthur
Everyday life in the Arab world from the perspective of the region's filmmakers will be shown in this year's Winterthur International Short Film Days (Nov 3-8) from Sudan through Syria to Iraq, with video art from Lebanon. Basma Alsharif and Lamia Joreige will be special guests for the programme entitled Arab Encounters - Visions and Realities.
The festival will also include Bhutan/Nepal as the Country in Focus, a spotlight on the short filmmakes Christoph Girardet and Matthias Müller, a sidebar dedicated to 99 Years of DADA as well as Swiss Film School Day and Producers' Day.
Pan-European research unveiled
Initial findings of the European Women's Audiovisual Network's (EWA) pan-European research project on the situation of women directors in Croatia, France, Germany, Italy, Sweden, the UK and other countries will be unveiled at the upcoming Venice Film Festival on September 5.
The final version of the research report on the careers of women filmmakers after graduation from film school will be launched during next year's Berlinale, according to EWA network director Francine Raveney .
EWA had collaborated at this year's Locarno Film Festival with such partners as Cinésuisse, FOCAL, Eurimages and MEDIA Desk Suisse to organise a discussion event during the Industry Days to highlight success stories by women filmmakers and address the challenges they face in following their profession.
The event in Locarno was attended by such industry figures as Medienboard Berlin-Brandenburg's CEO Kirsten Niehuus, NEAcinema's Aviva Silver, and Eurimages' executive director Roberto Olla.