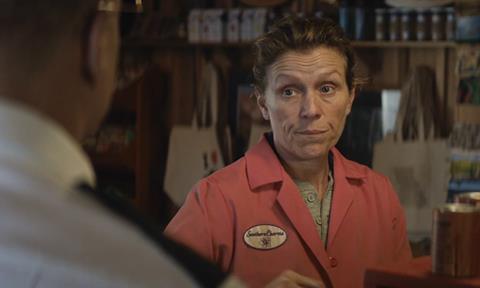 Three Billboards Outside Ebbing, Missouri, starring Frances McDormand and Woody Harrelson, will have its UK premiere as the closing night gala of the 61st BFI London film festival on October 15.
The film follows a woman (McDormand) who takes on local police using three billboards in her town, aimed at the local police chief (Woody Harrelson), after months have passed without a culprit being found for her daughter's murder.
Sam Rockwell, Abbie Cornish, Lucas Hedges, Caleb Landry Jones and Peter Dinklage also star in the Blueprint Pictures production co-presented by Fox Searchlight and Film4. The screenplay is by McDonaugh.
Three Billboards Outside Ebbing, Missouri is produced by Graham Broadbent, Pete Czernin, and McDonagh.
BFI London Film Festival director, Clare Stewart commented: "This all-too-relevant film confronts division and conflict in small-town America and is driven by a blistering performance from Frances McDormand."
Twentieth Century Fox will be releasing the film in the UK and Ireland on January 12.
As previously announced, LFF will open with Breathe directed by Andy Serkis and starring Andrew Garfield and Claire Foy. The full programme will be announced on August 31.