Feminist protesters jumped the barriers at the premiere of Suffragette.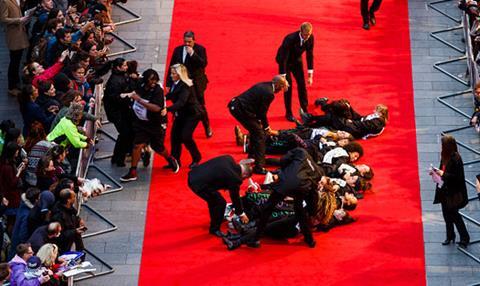 The BFI London Film Festival's "year of strong women" kicked off appropriately last night with more than a hundred feminist protesters jumping the barriers outside the Odeon cinema in Leicester Square to storm the red carpet of opening film Suffragette.
The activists from Sisters Uncut were bringing attention to cuts to domestic violence services with chants of "Dead women can't vote" and "We are suffragettes".
Several protesters lay on the red carpet as security guards worked to remove them while others set off green and purple smoke bombs within the large crowds that had gathered to see the celebrity premiere of Sarah Gavron's drama, which centres on women's fight for the right to vote.
Stars of the film to walk the red carpet included Meryl Streep, who has a cameo role in the period drama as Suffragette leader Emmeline Pankhurst, and lead actress Carey Mulligan, who plays young 'footsoldier' Maud.
Reacting to the protests, another of the film's stars, Helena Bonham Carter, told Sky News at the premiere: "I think it's marvellous. That is exactly what the suffragettes were about.
"If you feel strongly enough about something and there's an injustice there, then you can speak out and try and get something changed. It's the perfect response to our film."
Screen Subscribers
LFF FOCUS: Insights on the programme; new directors; industry line-up; and fest director Clare Stewart on "the year of strong women"
INTERVIEW: 'Suffragette' director Sarah Gavron on putting women behind the camera
Make more noise
Inside the cinema, the opening speeches made no reference to the protests but festival director Clare Stewart, wearing a dress in suffragette purple and black, said that – in programming this year's LFF – the team wanted to "make more noise".
"Suffragette is a film that has allowed us to amplify some of the very significant considerations for the international film industry in relation to the situation of women both in terms of roles and representation in front of the camera and behind the camera," she said to applause from the audience.
"We also declared 2015 the year of the strong woman to focus attention on the fact that this year we have a stellar line-up of films with really strong, vibrant roles for women. But that is not our usual experience so we don't yet know have we really shifted or is it just this year."
Highlighting the number of female filmmakers in the line-up, Stewart added: "We have 46 features directed by women, which sounds incredibly impressive when you think about that in its own right.
"But when you consider there are 240 films in the festival and it's only 20%, actually that is truly represented of the films that we get submitted by women it signals that women's creative voices need more support, need to be nurtured and definitely need to be realised.
Chantal Akerman tribute
Stewart also paid tribute to Belgian director Chantal Akerman, who died this week aged 65.
The festival director said: "In the spirit of our celebration of strong women and on a more sombre note, I really want to honour tonight one of the great pioneers of feminist cinema, Chantal Akerman, whose sudden and very sad passing took the international film community by surprise.
"Her artistry is phenomenal, her commitment and absolute uncompromising vision will be really missed."
The BFI London Film Festival runs until Oct 18, closing with Danny Boyle's Steve Jobs.