Michael De Luca and Jennifer Todd will return as producers.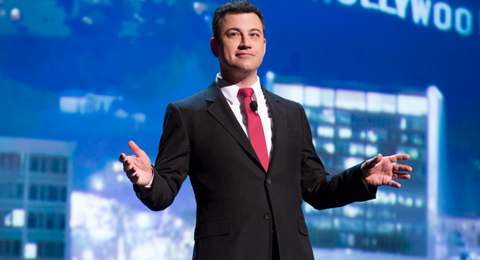 Jimmy Kimmel will reprise his hosting duties at the 90th edition of the awards ceremony to be held on March 4, 2018.
Academy president Cheryl Boone Isaacs made the announcement today that Kimmel, De Luca and Todd will be reuniting for Hollywood's biggest night.
While the performance of all three received generally favorable reviews, they were ultimately overshadowed by the badly fumbled best picture announcement that incorrectly named La La Land the Oscar winner rather than the actual winner Moonlight.
Kimmel serves as host and executive producer of Jimmy Kimmel Live! now in its 15th season. The show has earned six Emmy nominations in the outstanding variety series talk category, the writing for a variety series category, and the variety, music or comedy series category.
De Luca earned best picture Oscar nominations for producing Captain Phillips, Moneyball and The Social Network and has more than 60 film credits including the Fifty Shades Of Grey trilogy, Blow and Magnolia. He is a former president of production at Columbia Pictures, DreamWorks and New Line Cinema.
Todd is currently president of Pearl Street Films, the production company founded by Ben Affleck and Matt Damon, where she produced Live by Night and was executive producer on last year's Jason Bourne. Her other credits include such films as Alice Through The Looking Glass, Celeste And Jesse Forever, and Alice In Wonderland.
"Jimmy, Mike and Jennifer are truly an Oscar Dream Team," Isaacs said. "Mike and Jennifer produced a beautiful show that was visually stunning. And Jimmy proved, from his opening monologue all the way through a finale we could never have imagined, that he is one our finest hosts in Oscar history."
Kimmel said: "Hosting the Oscars was a highlight of my career and I am grateful to Cheryl, Dawn and the Academy for asking me to return to work with two of my favourite people, Mike De Luca and Jennifer Todd. If you think we screwed up the ending this year, wait until you see what we have planned for the 90th anniversary show!"
De Luca and Todd said: "It's not often you get two chances to have a once-in-a-lifetime experience and even more rare to be handed the keys to a party 90 years in the making. We always thought the idea that anything can happen on the Oscars was a cliché until we lived it."
Academy CEO Dawn Hudson added: "Our Oscars team this year delivered a show that hit every high note. Jimmy brought back the essence and light touch of the greatest hosts of Oscars' past. Mike and Jennifer's love of movies is infectious and touched every aspect of the show. This is the perfect team to lead us into the ninth decade."
Channing Dungey, President, ABC Entertainment commented: "After just one year, we can't imagine anyone else hosting The Oscars. Jimmy's skillful command of the stage is invaluable on a night when anything can happen – and does. With Mike and Jennifer at the helm, we're ready for another unforgettable show that will dazzle, delight and, most importantly, honour 90 years of Hollywood's most prestigious award."