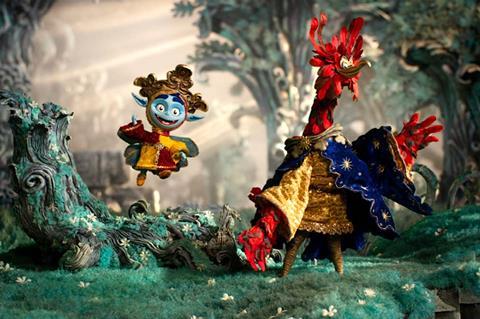 Ten Latin American feature projects have been pitched to potential partners at Iberseries & Platino Industria's first co-production forum which took place in Madrid on September 28 and was organised in collaboration with the San Sebastian International Film Festival (SSIFF).
The Forum ran as part of the second Iberseries & Platino Industria event, which took place from September 27-29.
The projects ranged from eco-thrillers to animation and sci-fi. Two of the projects, by Clarisa Navas and Ulysses Porra, were given the opportunity to pitch in Madrid having previously garnered a strong response at San Sebastian's Europe-Latin America Co-production Forum earlier this month.
Stop-motion animation The Ballad Of The Phoenix from Mexico's Ambriz brothers generated particular buzz.
Also of note internationally were Navas' drama They Burn The Same Way, Porra's Under The Same Sun, Christian Jiminez's Evasion and Iria Gomez's Here Be Dragons.
Iberseries & Platino Industria is the biggest event for Ibero-American TV shows. According to the organisers, this second edition registered 1,700 industry execs from 35 countries (including showrunners, broadcasters executives, distributors and producers) and included pitching sessions, co-production platforms for TV series and features, and 60 panels.
The projects
They Burn the Same Way (Arg)
Dir. Clarisa Navas
Navas, who won the Sebastiane Latino award at SSIFF and best feature award in Jeonju International Film Festival for One In A Thousand in 2020, examines squeer issues in a rural environment in They Burn In The Same Way. It is produced by Campos at Gentil Cine (Albertina Carri's The daughters Of Fire).
Under the Same Sun (Dom Rep)
Dir: Ulises Porra
Award-winning director Ulises Porra co-directed Carajita. He will next follow the struggles of a Haitian army deserter and a Chinese woman who start up a silk factory in his solo feature debut Under The Same Sun. It is produced by Dominican Republic's Wooden Boat Productions in partnership with Pucara Cine, the producers of Benjamín Naishtat's Rojo, a 2018 San Sebastian best director winner.
Antarctica (Chile-Arg)
Dir: Sebastian Araya
This eco-action thriller directed by Chilean actor-director Sebastian Araya stars Spain's Luis Tosar in a co-production between Spain's Zircozine, Chile's Afrofilms and Argentina's Tango Films. The movie will follow a geologist hired to find a philanthropist who has gone missing on a field trip in Antarctica.
A Week In Madrid (Arg)
Dir: Diego Corsini and Ezequiel Tronconi
Diego Corsini and actor-director Ezequiel Tronconi have teamed for this drama about an Argentinian photographer travelling to give a seminar in Madrid, who receives a call from his ex-girlfriend a well-known Spanish actress. It is produced by Argentina's Cineworld, whose credits include Germán Vilche's Emma's Dream.
Evasion (Chile-Bra-Sp)
Dir: Christian Jiménez
The director of Un Certain Regard title Bonsai, Christian Jiménez weaves two together stories in Evasion: one set in 1988, when a group of political prisoners tries to escape from a jail in Santiago; another is set in 2028, when a movie crew recreates the event and the main actor tries to improve the script by finding a member of the original escape. A co-production from Chile's Plant, Brazil's P&M Film Distributor/Fénix Filmes and Spain's Fasten (Nely Reguera's The Volunteer).
Here Be Dragons (Mex-Col)
Dir: Iria Gómez Concheiro
Iria Gómez Concheiro, the director of 2011 Sundance-selected title The Cinema Hold Up, will direct this sci-fi drama set in 2040 that follows an 18-year old trying to survive in a country where sinister military forces rule. It is a co-production between Mexican label Ciudad Cinema and Colombia's Trilce Cinema. Here Be Dragons participated at the Guadalajara Festival Co-Production Meetings and Morelia Lab, where it won a special mention.
Love, Sex And Tears (Arg)
Dir: Sol Berruezo
This is the third feature of Argentinian director and screenwriter Sol Berruezo, whose first film Mum, Mum, Mum won a special mention from the jury of the Generation KPlus Competition at the 2020 Berlinale. Love, Sex And Tears tells the story of a French woman in her thirties who, after going through multiple unsuccessful love affairs, decides to travel to Buenos Aires, where her aunt , a retired psychoanalyst, lives in the company of seven rabbits. It's produced by Argentina's Rita Cine, the production company behind Ivan Fund's Dusk Stone which screened in Giornate degli Autori at Venice in 2021.
The Ballad Of The Phoenix (Mex)
Dirs: Arturo Ambriz and Roy Ambriz
The first stop-motion feature by Arturo Ambriz and Roy Ambriz who have been hailed by Guillermo del Toro as the rising stars of Mexican animation. Produced by Mexico's Cinema Fantasma and Vendaval Cinema, the voice cast is lead by Gael García Bernal and focuses on a a young and selfish goblin princess. The Ambriz brothers' series Frankelda's Book Of Spooks was produced for HBO Max, which took US rights and won best animated series and design at this year's Ibero-American Animation Quirino Awards.
The Kingdom (Col-Fr)
Dir: Catalina Arroyave Restrepo
After her promising debut Days Of The Whale, which took a special mention at SXSW in 2019, the second feature from Colombia's Catalina Arroyave Restrepo will depict depict the sexual awakening of a young woman in the middle of a crisis of faith. It is produced by Jaime Guerrero at Colombia's Rara Audiovisual Collective and Louise Bellicaud at France's In Vivo Films.
Veteran (Mex)
Dir. Fernando Stein
Veteran is the fiction feature debut of Mexican documentary and short filmmaker Fernando Stein. It is a social drama with some action elements that follows Dani, a war veteran who has spent most of his life at the US but is deported to Mexico. It is produced by Mexico's Tentáculos Films, which is behind Marie Benito's Días Borrosos (2022) and Amat Escalante's The Untamed, a Venice Silver Lion winner and best director at Austin Fantastic Fest in 2016.
The Forum was promoted and organised by Spanish rights society Egeda and Secuoya Foundation, with the support of FIPCA, the Iberoamerican Federation of Film and Audiovisual Producers, Madrid's City Council and regional governments and Spain's Foreign Commerce Institute (ICEX).