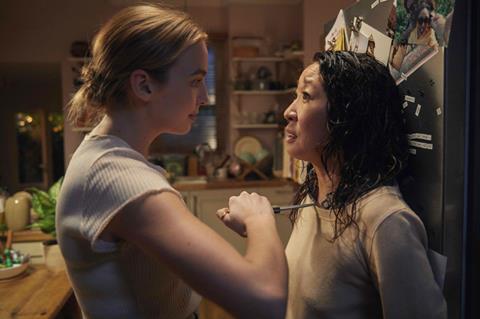 Canneseries, the international TV festival launching in Cannes this April (7-11), has revealed the ten series in its official competition selection.
Scroll down for full line-up
The titles include Killing Eve created by Phoebe Waller-Bridge (Fleabag) and starring Sandra Oh and Fiona Shaw, and Aquí En La Terra, created by Gael García Bernal with Kyzza Terrazas and Jorge Dorantes.
The titles were selected by Canneseries artistic director Albin Lewi.
The festival was founded by David Lisnard, mayor of Cannes and presided by former French culture minister Fleur Pellerin. It will run alongside MIPTV.
Other high-profile shows include Rai 2's mafia series The Hunter and out of competition titles The Truth About The Harry Quebert Affair starring Patrick Dempsey and directed by Jean-Jacques Annaud, and the third series of Versailles.
Writer and showrunner Harlan Coben will preside over the Jury for the official competition. Safe, created by Coben, also plays out of competition and will close the festival.
The other jury members are actress Paula Beer (Frantz, Bad Banks); screenwriter Audrey Fouché (Memories Corner); actress Melisa Sözen (Winter Sleep); composer Cristobal Tapia De Veer (Black Mirror) and actor Michael Kenneth Williams (The Wire, Boardwalk Empire).
The jury will present awards in the following categories on April 11: best music, best screenplay, special performance prize, best performance and best series.
There is also a selection of ten short form web series, with a digital jury awarding a best digital series prize at the ceremony.
Full list of series
Official Competition
AQUÍ EN LA TIERRA (Mexico)
Creator: Gael García Bernal, Kyzza Terrazas, Jorge Dorantes
Cast: Tenoch Huerta Mejía, Alfonso Dosal, Daniel Giménez Cacho, Ariadna Gil, Paulina Dávila, Yoshira Escárrega, Gael García Bernal, Luis Gnecco
Network: Fox Premium App & Tv
CACCIATORE - THE HUNTER/ Il Cacciatore (Italy)
Creators: Marcello Izzo, Silvia Ebreul, Alfonso Sabella
Cast: Francesco Montanari, Miriam Dalmazio, David Coco, Roberta Caronia, Paolo Briguglia
Network: Rai 2
FÉLIX (Spain)
Creator: Cesc Gay
Cast: Leonardo Sbaraglia, Pere Arquillué, Ginés García Millán, Mi Hoa Lee
Network: Movistar+
KILLING EVE (USA)
Creator: Phoebe Waller-Bridge
Cast: Sandra Oh, Fiona Shaw, Jodie Comer, Kim Bodnia, Owen McDonnell
Network: BBC America
MIGUEL (Israel)
Creator: Tom Salama, Daphna Levin
Cast: Ran Danker, Aviv Karmi, Raul Mendez, Omer Ben David, Miguelito Sojuel
Network: Hot
MOTHER (South Korea)
Creator: PARK Jee-Young
Cast: LEE Bo-Young, HEO Yool, LEE Hye-Young, NAM Gi-Ae, GO Sung-Hee
Network: tvN
STATE OF HAPPINESS/ Lykkeland (Norway)
Screenwriter: Mette M Bølstad based on an idea by Synnøve Hørsdal and a concept by Siv Rajendram Eliassen
Cast: Anne Regine Ellingsaeter, Bart Edwards, Amund Harboe, Malene Wadel
Network: NRK1
THE TYPIST/ Die Protokollantin (Germany)
Written by: Nina Grosse
Cast: Iris Berben, Peter Kurth, Moritz Bleibtreu, Katharina Schlothauer, Timur Isik
Network: ZDF
UNDERCOVER (Belgium)
Creator: Nico Moolenaar
Cast: Tom Waes, Anna Drijver
Network: Eén
WHEN HEROES FLY (Israel)
Creator: Omri Givon
Cast: Tomer Kapon, Michael Aloni, Moshe Ashkenzi, Nadav Neits, Ninet Tayeb
Network: Keshet Broadcasting
OUT OF COMPETITION
VERSAILLES, Season 3 – Opening Series of the Festival
Creator: Simon Mirren, David Wolstencroft
Cast: George Blagden, Alexander Vlahos, Elisa Lasowski, Catherine Walker
Network: Canal +
THE TRUTH ABOUT THE HARRY QUEBERT AFFAIR– Official Competition Opening Series
Director: Jean-Jacques Annaud
Cast: Patrick Dempsey, Kristine Frøseth, Ben Schnetzer
Network: TF1 (France), Epix (US)
SAFE– Closing Series of the Festival
Creator: Harlan Coben
Cast: Michael C. Hall, Audrey Fleurot, Amanda Abbington
Network: C8 (France), Netflix (Worldwide except France)
CANNESERIES DIGITAL COMPETITION
THE ARENA/ L'Arène (Canada)
ATROPA (USA)
BITE SIZE HORROR (USA)
BONDING (USA)
CABEZA MADRE (Cuba)
CAMIONERO (Colombia)
DOMINOS (Canada)
IF I WERE YOU/ Si Fueras Tú (Spain)
IMMATURE (India)
MEMENTO MORI (South Korea)