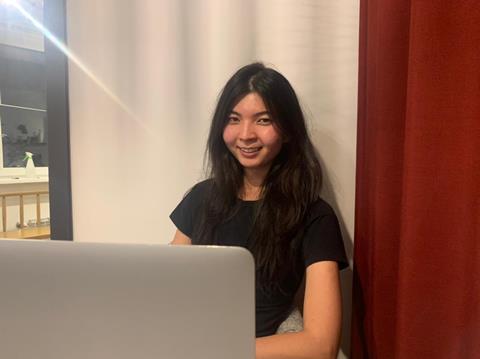 Kazakh writer-director-producer Zhannat Alshanova was the big winner at Trieste's When East Meets West (WEMW) co-production forum for her feature debut project A Winner Is Seen At The Start which won there prizes including the main Film Center Serbia development award with a cash prize of €5,000. The forum ran online from January 24-28.
Alshanova, a graduate of the London Film School also received the Pop Up Film Residency award and the European Women's Audiovisual Network (EWA) best woman director award for the project.
A Winner Is Seen At The Start is about a 19 year-old woman who is caught up in a series of controversial events when she enrols in an experimental swimming school Alshanova cited Claire Denis' Beau Travail and Pablo Larrain's Ema as inspiration for this project. She plans to produce the €350,000 feature through her production company Steppe by Steppe which she founded with fellow producer Yevgeniya Moreva following their collaboration on her short History Of Civilization which won a Pardino D'Argento in Locarno's Leopards of Tomorrow competition last August.
Further awards included a scholarship for the 2022 EAVE producers workshop which was presented to North Macedonian producer Marija Dimitrova of Skopje-based List Production for Goran Stolevski's feature Housekeeping For Beginners which she pitched in the co-production forum.
The DAE Accelerator Award was won by NFTS graduate Salome Hevin's debut documentary project Foals, to be produced by Paris-based Pivonka Production; and the Flow Postproduction award went to Berlin-based feature debutant Sara Summa's A Safe Place. The latter will be produced by Chromosom Film.
Creative documentaries
Meanwhile, the international jury of Last Stop Trieste, dedicated to creative documentaries and run together with the Trieste Film Festival presented the the HBO Europe award to Italian filmmaker Francesco Montagner's Czech-Italian co-production Brotherhood and the Flow Digital Cinema award to Croatian director Srdan Keca's debut Museum Of The Revolution.
Sales agent Esther van Messel picked the Slovenian filmmaker Marija Zidar's project Reconciliation for her First Hand Fund award consisting of consultancy on rough cut dramaturgy as well as promotion and distribution strategies.
In addition, WEMW hosted the First Cut+ awards with Greek filmmaker Araceli Lemos receiving a package of promotional services from L'Avventura Studio, WOLF Consultants and Tiramisu consultancy for her supernatural tale Holy Emy.
Peter Kerekes' Censor was selected for the Sub-Ti Award for subtitling services and the Sub-Ti Access Award for access services.