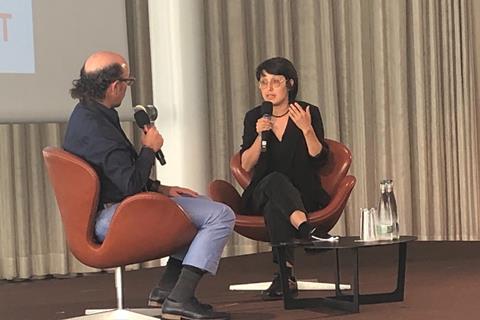 Afghan filmmaker Shahrbanoo Sadat, well known internationally for her Cannes features Wolf & Sheep and The Orphanage, escaped Kabul one month ago with her family to come to Europe.
Speaking at the Zurich Film Festival's Zurich Summit on Sept 25, she said she hopes to keep her passion for filmmaking going despite the turmoil in her homeland, wanting to show the many "colours" of Afghanistan.
With the help of many international friends including her Danish producer Katja Adomeit, Sadat was able to take a French flight out of Kabul.
In her final days living in Kabul, she recalled "It was about 20 people living in my apartment – my actor friend, my cinematographer friend, my parents, my brother and his family from central Afghanistan."
She refused to fly out earlier until she could take her family with her. "It didn't make sense for me just to go and leave these people."
Sadat admitted at her lowest moments in the past month, she questioned the power of cinema. "I don't even know if I believe in cinema anymore in specific moments like this, because cinema is too small."
"There are moments that I'm very negative and very down because of things I saw there," she continued. "I totally lost like my belief in human rights and women's rights and democracy, because the entire world, the internet, the international community, they just handed a country from democracy to terrorism. But on the other hand, because cinema is the only thing left for me at the moment, I have no other way forward except to go back and find a new intention to make movies."
Sadat had been working on the third part of her planned trilogy of features for several years, but says she will need to get back in the right frame of mind before she feels ready to tackle that film, which she describes as a romantic comedy. It will tell the story of a young woman working as a camera operator on a cooking show at a TV channel in Afghanistan who falls in love with an older news reporter.
The filmmaker is grappling mentally with what has happened in the past few weeks. "I'm trying to explain my feelings on that time [when the Taliban seized control]. It's just very complicated because I was two persons, one was the filmmaker who was really appreciating being there, because I could see things with my own eyes… but on the other hand, I was also an individual. And I was so scared, not for myself, for my family and for my friends, for other people and the hundreds or thousands of people in the crowd at the airport."
Sadat was in conversation in Zurich with Sam Kadi, Syria-born, California-based writer/director/producer who is showing his latest production Lamya's Poem (sold by WestEnd) in Zurich. Kadi also directed the first Oscar submission from Syria, Little Gandhi.
Hearing Sadat's reflections, Kadi said, "That reminded me of myself back in 2011 when I saw what was happening in Syria. As a filmmaker, what I could do? I definitely lost hope in every single politician…but I really believe in the people. People who watch cinema will change the world."
Kadi continued, "I feel our job is to make these movies that could touch people, open their eyes. Nobody knew where Syria was on the map until Syria got bombed. I think this is a very bad way to learn geography. This is the oldest land on Earth. The oldest country in the world, this is where the very first alphabet was found, where the first musical note was invented. This is a treasure that belongs to humanity. It's the same thing for Afghanistan and I think our job is to remind people. I believe in the impact of cinema, but we have to have more support to make socially conscious films."
Sadat was born into a refugee family in Iran and has lived in Afghanistan for the past 20 years, making her features with backing from Europe. She wants to portray a wide range of society in her films, including the middle classes. She said, "I don't care if people give me a look like, 'Are you kidding me? A romantic comedy from Afghanistan?!' I will make my romantic comedy. We can talk about about culture and real people…Afghanistan can be shown in colours."
Sadat added, "I don't see myself as a victim at all. I don't see the people in Kabul as victims, look at the footage from the demonstrations this week – women on the street that are trying to make a conversation with Taliban. That's so brave."
"I hope I will heal over time…maybe I'm now a little bit negative. But in normal days I'm really an idealistic person…I have this love for Afghanistan in my heart and I want to share this through my movies."