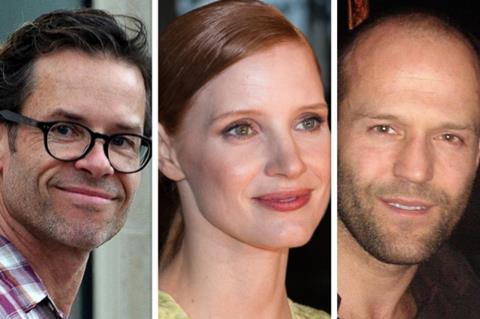 The traditional last-minute flurry of hot packages has given cause for optimism heading into the 40th anniversary AFM as the march of the streamers, uncertainty over Brexit, and a glimmer of hope in US-China trade talks dominate the conversation.
Despite a quiet run-in, sales agents said they were reading more scripts than ever before, and reported a high level of engagement from agencies and financiers. The trick is to identify the projects with genuine theatrical prospects that can satisfy independent buyers, who face more competition than ever before from streamers.
The imminent release in the US of Midway (this Friday) and Knives Out (November 27) - two heavyweight products of the independent space that are being distributed in the US through Lionsgate - will be watched closely by market attendees.
"When we're evaluating projects we try to talk about projects that are makeable," said Sierra/Affinity president Jonathan Kier. "This is not just about launching something and willing it into existence. We look for things that are either financed by [owner] eOne or financed by a third party."
Kier will be kicking off talks on the comedic drama Losing Clementine to star Jessica Chastain. This time, he has scheduled fewer and longer meetings to get into deeper conversations with partners about how to broaden their partnerships. Everybody knows that ownership and greater control are the name of the game.
Market attendees who spoke to Screen say that it is precisely for this reason that AFM and other markets on the calendar remain critical, offering valuable face time with partners old and new.
"We are laser-focused on presenting our current slate to our international partners," noted Voltage Pictures president and COO Jonathan Deckter, who will introduce buyers to exorcism thriller The Seventh Day with Guy Pearce. Voltage is screening its Jessica Chastain spy thriller Ava (formerly Eve) for the first time, and showing first footage on After We Collided, the sequel to this year's independent hit After.
Deckter continued: "While we're engaged with buyers every day of the year, AFM is the perfect event to have the all-important face time that ultimately drives a tonne of business."
Attracting the right cast is harder than ever, as networks and streamers offer longer-term, high-paying work on increasingly prestige fare. Apple TV+ just launched, Disney+ debuts next week, and HBO Max and Peacock arrive in 2020. Like Netflix, Amazon Studios and Hulu, these new platforms are hungry to catch and keep subscribers with top-notch content and talent and will pay top dollar to achive their goals.
"It's still very tough out there," said Arclight Films chief Gary Hamilton, who is launching sales at AFM on action title Long Gone Heroes starring Guy Pearce. "It's got harder to get movies made. Buyers want the cast to be greater and the financiers want the budget to be lower, so it's a question of finding somewhere in between."
It remained to be seen what Asian attendance would be like at the market, and all eyes will be on the ongoing efforts by the Trump administration and Beijing to establish a trade deal. As US buyers engage sparingly on Asian product and censorship challenges confront Chinese distributors of US product, observers said it may be that the Asian industry focuses more on Cannes and the Asian markets in future.
Hot packages include AGC Studios' sci-fi Inferno from Neill Blomkamp; FilmNation's Dog from Channing Tatum; MadRiver International's Leo From Toledo that reunites Mel Gibson and Frank Grillo with Boss Level director Joe Carnahan; Solstice Studio's action thriller Hypnotic from Studio 8 that Robert Rodriguez will direct; and exorcism films The Seventh Day from Voltage Pictures and The Devil's Light from Lionsgate International.
HanWay Films brings Paul Schrader's The Card Counter starring Oscar Isaac; Pathé International has The Duke with Jim Broadbent and Helen Mirren; Gaumont launches sales on the latest instalment in OSS 117 spy spoof series, From Africa With Love, starring Jean Dujardin; and Miramax has Guy Ritchie's Cash Truck to star Jason Statham and Scott Eastwood.