EXCLUSIVE: Content's AFM slate includes Jon Brewer's Beside Bowie: The Mick Ronson Story.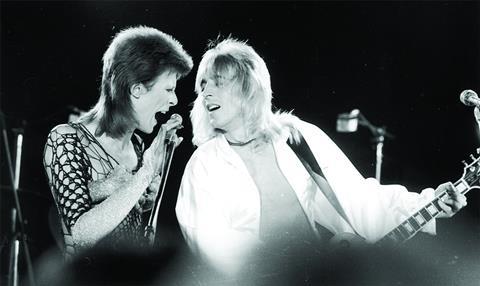 Content Media has acquired worldwide sales rights to the timely music documentary, Beside Bowie: The Mick Ronson Story.
President of film Jamie Carmichael and executive vice-president of sales and distribution Jonathan Ford are introducing Jon Brewer's film to the market this week.
While the film is expected to capitalise on global fascination for the late David Bowie himself, who died in January this year, the subject is his frequent collaborator and guitar virtuoso Ronson.
As a member of Bowie's backing band The Spiders From Mars in the early 1970's, Ronson contributed to some of the most iconic compositions, lyrics and recordings in contemporary music.
He recorded several solo albums and also earned a reputation as a sought-after session musician who played with Ian Hunter, Lou Reed and Morrissey and toured with Bob Dylan and Van Morrison.
Beside Bowie: The Mick Ronson Story features previously unseen archival footage and pictures from photographer Mick Rock chronicling Ronson's career until his death from liver cancer in 1993 at the age of 46.
Brewer, whose credits include B.B. King: The Life Of Riley and Nat King Cole: Afraid Of The Dark, also produces the documentary.
"Beside Bowie reveals the unique story of a man who played guitar beside some of the world's greatest rock stars and helped propel them to fame," said Carmichael and Ford. "It's the rock guitar version of 20 Feet From Stardom."
Content's AFM roster includes comedy An Actor Prepares with Jeremy Irons and Jack Huston; Dan Bush's supernatural thriller heist The Vault starring James Franco; action-thriller The Worker starring Michael Peña produced alongside Jeremy Renner's company The Combine; and Maria Callas biopic Callas & Onassis starring Noomi Rapace.