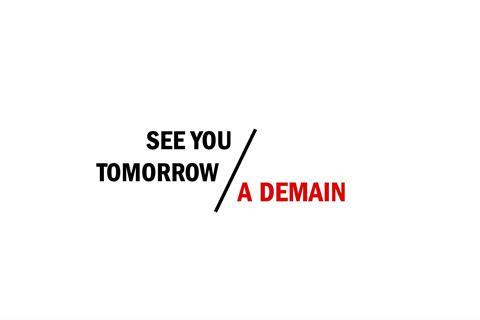 The agency-led coalition of sales agents has launched its Cannes virtual market website ahead of the event, set to run from June 22-28 after the Cannes festival and market cancelled amid the coronavirus pandemic.
Called See You Tomorrow / A Demain, the site uses a simple design architecture that links to a schedule of presentations and to a list of each sales agency participating in the virtual market, which operates alongside the Marché du Film's virtual platform.
So far there are more than 30 participating sales agents, and 26 pre-recorded presentations scheduled to occur over the first two days. According to sources some 500 buyers are scheduled to take part and more companies are excepted to be added in the coming days.
Site users entering the schedule of presentations page, choose a time zone – Tokyo, Cannes or Los Angeles – and view a day-long time roster of 30-minute slots allotted to sellers. At time of writing all presentations were listed as To Be Announced.
Almost all six presentation schedules on both days in all three zones run from 9am to 6pm, switching to 9.30am-5.30pm in the Tokyo time zone on June 23.
The listed sales companies with presentation slots are: FilmNation, AGC Studios, Wild Bunch International, HanWay Films, Pathé, Sierra/Affinity, Endeavor Content, XYZ Films, Latido Films, West End, Red Sea Media, Myriad Pictures, Other Angle, Protagonist, The Exchange, Capstone Pictures, Double Dutch International, and Blue Fox.
Meetings are set for June 24-28 when buyers and other registered users can engage with a larger group of sales agents listed on the site.
They include: Lionsgate, Cornerstone, Mister Smith, STX, Rocket Science, Independent, Epic Pictures, Radiant Films International, Storyboard Media, CAA, UTA, ICM Partners, VMI Worldwide, Bankside, The Solution, Octane Entertainment, and 30West.
Site users can click through each company name to get a contact email.
Screen understands each seller will use their preferred method of video conferencing and presentation platform. Zoom is a popular choice, and others include BlueJeans, eye2eye, Indee TV, and RightsTrade.