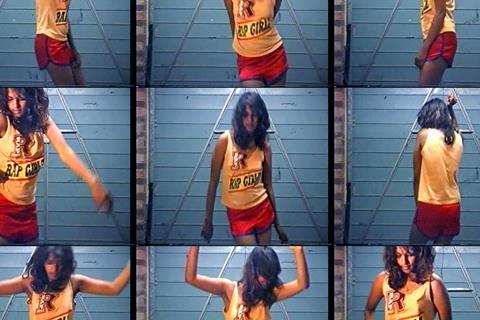 Canadian documentary festival Hot Docs has added 17 additional special presentations.
They include McQueen, Ian Bonhôte's documentary about fashion designer Alexander McQueen, and Steve Loveridge's MATANGA / MAYA / M.I.A. (pictured), the Sundance world premiere about British rapper and record producer M.I.A. that has been picked up for the UK by Dogwoof.
Other highlights in the programme include Liz Garbus's The Fourth Estate, a look into how The New York Times covered the first year of the Trump presidency, and Mercury 13, the story of NASA's first female astronaut training programme.
The full selection from Hot Docs, which runs from April 26-May 6 in Toronto, will be announced on March 20, including the remainder of the special presentation titles and the opening night film.
Full list of new special presentations
All synopses provided by Hot Docs.
ACTIVE MEASURES
Dir. Jack Bryan
Dive deep into one of the most deft espionage operations in history. Featuring exclusive interviews with Hillary Clinton, John McCain and more, this explosive film uncovers Trump-Putin ties dating back to the '70s and Soviet-style information warfare tactics used to affect the 2016 US presidential election.
World premiere
ALT-RIGHT: AGE OF RAGE
Dir. Adam Bhala Lough
Trigger warning: everything. Set against the horrific violence of the 2017 Charlottesville riots, alt-right leader Richard Spencer squares off against antifa activist Daryle Lamont Jenkins in this provocative look inside the two movements boiling over in America.
Canadian premiere
ANDY IRONS: KISSED BY GOD
Dirs. Steve Jones, Todd Jones
Three-time world surfing champion Andy Irons chased perfect pipe on the waves but dark demons on shore. Breathtaking cinematography captures the gorgeously wild star, but as mental illness troubles the waters, a heartbreaking tragedy unfolds.
World premiere
BEHIND THE CURVE
Dir. Daniel J. Clark
A rapidly rising number of people are convinced that the Earth is flat. Follow the leaders behind this conspiracy theory du jour as they rally to spread their message, challenge scientific proofs and flatten the globe once and for all.
World premiere
BLUE WALL
Dir. Richard Rowley
Oscar-nominated director Richard Rowley offers a searing examination of the police killing of Laquan McDonald, tracing the conspiracy of silence that extended up to the Chicago mayor's office and revealing the journalists, activists and lawyers whose perseverance exposed the truth.
World premiere
THE FOURTH ESTATE
Dir. Liz Garbus
Granted unprecedented access and interviews with editors and reporters on the front lines, Emmy-winning and Oscar®-nominated filmmaker Liz Garbus' The Fourth Estate follows the inner workings of The New York Times, revealing the challenges, triumphs and pitfalls of covering a president who has declared war on the free press.
International premiere
THE GAME CHANGERS
Dir. Louie Psihoyos
Oscar-winner Louie Psihoyos's (The Cove) explosive doc examines elite athletes' dramatically improved strength and performance when they switch from animal- to plant-based diets, and upends antiquated notions of masculinity and virility along the way.
Canadian premiere
MATANGI / MAYA / M.I.A.
Dir. Steve Loveridge
Two decades' worth of personal footage capture the complex evolution of M.I.A., the rapper and social justice activist whose outspoken rhymes tore up the charts, stoked political fires and captivated fans and critics worldwide.
Canadian premiere
MCQUEEN
Dir. Ian Bonhôte, Peter Ettedgui (co-director)
An intimate account of the life, career and artistry of legendary couturier, fashion maverick and creative genius Alexander McQueen, vividly brought to life via rare archival footage and revealing interviews with his inner circle.
International premiere
MERCURY 13
Dirs. David Sington, Heather Walsh
The pioneers enrolled in NASA's first female astronaut training program finally open up about their top-secret testing, which pitted them against the established boys' club of American astronauts of the 1950s.
International premiere
MORE HUMAN THAN HUMAN
Dirs. Tommy Pallotta, Femke Wolting
With artificial intelligence potentially on track to surpass human capabilities within the next two decades, one filmmaker tests his own job security by building a robot to replace himself and discovers the truth of what's really at stake.
International premiere
MR. SOUL!
Dirs. Sam Pollard, Melissa Haizlip
Go backstage with the first all-Black variety show broadcast nationally on PBS, and meet its openly gay host, who was instrumental in ushering radical Black talent into American living rooms in the wake of the civil rights movement.
International premiere
THE NIGHT OF ALL NIGHTS
Dirs. Yasemin Şamdereli
In frank and funny interviews, four couples from across the world, united under vastly different circumstances but each together for more than 50 years, reflect on their relationships and share their secrets for long-lasting love – for better or for worse.
International premiere
OUR NEW PRESIDENT
Dir. Maxim Pozdorovkin
In a horrifying and hilarious collage, the story of Donald Trump's path to the presidency is told entirely through Russian propaganda, laying bare an empire of fake news and the cynical tactics of information warfare.
Canadian premiere
PICK OF THE LITTER
Dirs. Dana Nachman, Don Hardy
A litter of newborn Labrador puppies begins "basic training" to become service dogs for the blind – but who will make the cut? Their successes and failures are shared equally with the devoted caretakers who guide them on this rigorous two-year journey.
International premiere
TINY SHOULDERS: RETHINKING BARBIE
Dir. Andrea Blaugrund Nevins
With sales at a historic low and women's rights campaigns at fever pitch, Barbie is getting a radical makeover. Gloria Steinem, Roxane Gay, Mattel designers and others renegotiate the iconic doll's place in a world that both loves and loves to hate her.
International premiere
UNITED SKATES
Dirs. Dyana Winkler, Tina Brown
When America's last roller rinks are threatened with closure, thousands pull together to save and celebrate the vibrant underground subculture that has provided a safe space for the Black community since before the civil rights movement.
International premiere