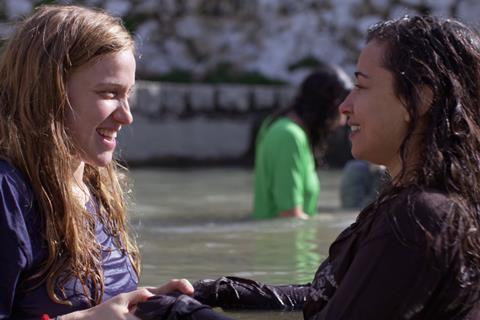 Paris-based Alma Cinema has boarded sales on Israeli director Tsivia Barkai Yacov's coming-of-age tale Para Aduma (aka Red Cow), revolving around the explosive sexual awakening between two girls from Israel's orthodox settler community, ahead of its premiere in Generation at the Berlinale.
Big screen debutant Avigail Kovari plays Benny, a 16-year-old red head growing-up in an orthodox settlement in the heart of Palestinian East Jerusalem who is given the task of caring for a new-born, pure red heifer.
The animal's birth is seen as a sign by her orthodox father and the rest of the community that the time has come to build a Third Temple for the Jewish people in Jerusalem, replacing the Second Temple destroyed two thousand years ago.
This coincides with Benny's growing antagonism towards her father's religious, utopian nationalism, which is further fuelled when she falls passionately in love with another woman in her community.
It is a first feature for Berlinale Talents Campus alumna Barkai, who herself was raised in the orthodox Jewish settlement of Beit-El next to the Palestinian city of Ramallah.
"It's shot against a backdrop of the orthodox settler world, rarely seen on the big screen, and framed in an unexpected way through the tale of young girl breaking with her orthodox family though an explosive sexual awakening," commented Alma Cinema chief Sara May.
The feature is the latest production from producer Itai Tamir of Tel Aviv-based Laila Films, whose recent credits include Ofir Raul Grazier's critically-acclaimed The Cakemaker.
Alma Cinema, which was launched in 2016, has a good track record with Middle East titles, having handled Palestinian director Maysaloun Hamoud's award-winning, cross-culture tale In Between about three Palestinian women living in Tel Aviv, which sold well internationally.
"It's a strange coincidence," says May. "They're obviously stories coming from different sides of this conflicted region but are similar in their authenticity and the way they don't make any overt political statements about the situation."
Other titles on Alma's EFM slate include Jérémie Guez's thriller A Bluebird In My Heart, which the company will market premiere ahead of its world festival premiere at SXSW.
It will also show a first trailer for Guillaume Nicloux's Indochina War-set To The Ends Of The World, which stars Gaspard Ulliel and Gaspard Depardieu and has strong Cannes potential.
The company is also kicking off sales on Sheherazade the debut feature of French film-maker Jean-Bernard Marlin who won Berlin's Golden for his short film La Fugue in 2013.