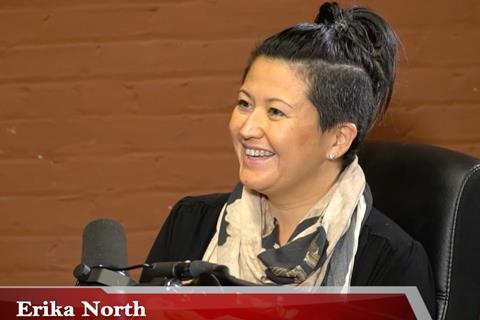 Erika North, Amazon Prime Video director, local originals APAC, has announced that the global streamer is planning to make a big push into Southeast Asia, expanding on its existing activity in Japan, India and Australia, and is seeking local-language projects to build out its slate.
"Today is a particularly exciting moment at Amazon Prime Video in that we are going to be expanding into Southeast Asia," said North, speaking at the on-going Asia TV Forum & Market (ATF, December 1-3).
"We're thrilled to announce that we're truly open for business, and as in other parts of the region, will be partnering with top local talents to find stories, opportunities to tell those stories, and to amplify them across 200 million members on Prime Video in 240 countries."
Until now, Amazon has focused its local production efforts on the Asia Pacific territories where it has a large e-commerce business – Japan, India and Australia – and has not unveiled any production plans in the languages widely spoken in Southeast Asia, such as Chinese, Thai or Bahasa Indonesian. It does not currently have a large e-commerce business in Southeast Asian markets such as Indonesia, Thailand and the Philippines, where there are several successful local incumbents.
When it comes to streaming and content creation, it will be entering one of the most competitive markets in the world, as Netflix, WarnerMedia and Disney+ are already deeply engaged in local-language production in Southeast Asia, along with Chinese streamers iQiyi and Tencent, and local players such as Indonesia's Vidio and Hong Kong-based Viu.
During her fireside chat, North made a direct appeal to content creators in the region to pitch their projects across scripted series, unscripted and film. She also said the streamer would build a team for the region based out of Singapore. However, she didn't go into details about the number of originals Amazon aims to produce, or which territories or languages it would focus on first.
"Great content can take time and we're really at day one in this process," said North, who held a similar position at Netflix before joining Amazon in February 2020. "We're looking to partner with creatives to take that time. At the end of the day, Amazon Studios aims to be the true home of talent and creators in that we want to be asking them some of the most pertinent questions about what they haven't had the opportunity to make, and what can Amazon do to provide the resources, infrastructure and distribution to amplify those stories."
North added that Amazon is currently looking for a director for the Southeast Asia Prime Video business based in Singapore, and is advertising at least four other positions including a content acquisitions manager.
Amazon has already produced a large volume of original series in India, such as crime dramas Paatal Lok, Family Man, girl power comedy drama Four More Shots Please! and supernatural thriller The Last Hour. In Australia, the streamer is producing an adaptation of Holly Ringland's novel The Lost Flowers Of Alice Hart, starring Sigourney Weaver.
In Japan it has produced unscripted comedy series Documental, a Japanese version of The Bachelor and is developing its first Japanese film, Homestay, based on the novel Colorful by Eto Mori and set to star Nagao Kento. North cited Documental as an example of content breaking out around the world, as the format has been successfully adapted in Germany, Italy and Mexico.