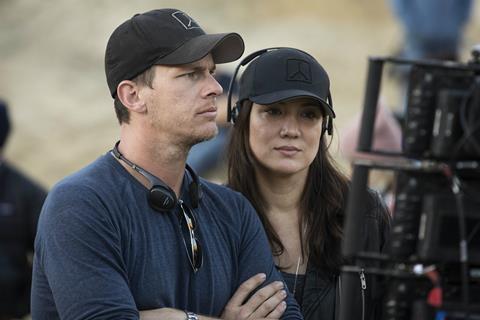 Jonathan Nolan and Lisa Joy, creators of HBO's Westworld series, are following other top US TV producers into the streaming world, signing an overall deal, reportedly worth around $150m over five years, with Amazon Studios.
Under the deal, which also covers Nolan and Joy's Kilter Films company, the two will work with Amazon to create and produce original series to premiere exclusively around the world on the Amazon Prime Video platform.
Though their current separate deals with Warner Bros Television Studios will end, they will continue to write and serve as executive producers on Westworld, made for HBO by sister company Warner, for what an Amazon statement said will be "multiple additional seasons."
The new deal consolidates Nolan and Joy's existing relationship with Amazon, where they are currently developing The Peripheral, a sci-fi drama series based on the William Gibson novel to be produced by Kilter and Warner.
The deal also represents another blow to traditional TV studios from the new streaming players. Other big name producers that have recently signed huge deals with streaming platforms include Shonda Rhimes, Ryan Murphy (both now with Netflix) and Oprah Winfrey (at Apple). Studios have recently fought back by writing some big deals of their own, with Warner Bros securing prolific comic book series producer Greg Berlanti and Universal signing comedy hit-maker Mike Schur.
Joy and Nolan created Westworld, inspired by the 1973 feature from Michael Crichton, in 2016, and the series, which starts production on its third season this spring, has earned a total of 43 Emmy nominations.
Individually, Joy got her start as a writer on series including Pushing Daisies and Burn Notice and is set to direct her debut feature, the sci-fi Reminiscence, with Hugh Jackman and Rebecca Ferguson, for Warner Bros.
Nolan created the hit sci-fi series Person Of Interest and has written features including Memento, The Dark Knight and The Dark Knight Rises with his director brother Christopher.
In a statement, Amazon Studios head Jennifer Salke said: "Jonathan Nolan and Lisa Joy are two of the most talented and inventive creators in the business. They have mastered the art of working in tandem as well as individually on so many fantastic projects across film and television. They each bring their own unique storytelling abilities to the partnership, creating unforgettable characters in addictive and compelling worlds. We are ready to jump right in and can't wait to deliver their future projects to our Amazon Prime Video audience."
Nolan and Joy commented in a joint statement: "We are incredibly excited to begin this new adventure with Amazon Studios. Jennifer Salke's vision for the future of our business is bold and forward-thinking, and she's assembled a brilliant creative team to execute it. We can't wait to dive in to make some batshit crazy television together. And we're thrilled to continue our collaboration with our friends and partners at Warner Bros and HBO on Westworld, The Peripheral and more for seasons to come."