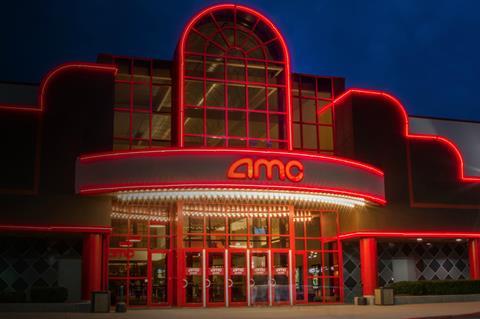 AMC has reported a $2.17bn first quarter loss amid gloomy speculation over the future of the world's largest exhibitor, while CEO Adam Aron said he expected all the company's global sites to be open by July and expected to show Warner Bros' Tenet on July 17.
A one-off $1.8bn impairment charge had a severe impact on the company, whose situation amid the pandemic lockdown, according to some analysts, represents the highest risk of any in the exhibition space due to the fact it is highly leveraged and has very low available liquidity.
Amid ongoing talk on Wall Street of bankruptcy or a restructure at best, Aron told analysts on Tuesday (June 9) that 10 of the exhibitor's theatres have reopened in Germany, Spain, Norway, and Portugal, and he expected the rest of the world to follow by July.
Countries around the world have issued separate guidelines about how they have begun to emerge or will emerge from theatre closures and lockdown.
However everything is contingent on approval from local health officials. This week the health authority in California, a key driver in the North American box office, said cinemas could reopen as early as Friday (June 12).
Most cinema chains regard the date as too early, especially at a time when transmission rates are rising in Los Angeles County, where beaches, hiking trails, restaurants and retail have been allowed to reopen.
Current rising numbers do not yet factor in mass gatherings at protests against police brutality – which have taken place across the world and most intensively in the US – as the virus can incubate for up to 14 days before symptoms manifest themselves.
It is also conceivable that distributors will delay or in some cases further delay their releases should the number of returning patrons fall below expectations, even with social distancing protocols in place.
California Department of Public Health, for example, has recommended that in the initial stages of reopening, cinemas run at 25% attendance levels or 100 patrons per auditorium, whichever is less.
Tenet is the first major summer tentpole, however it is not the first summer release. That role goes to Russell Crowe psychological thriller Unhinged from Solstice Studios, set to open on July 1.
Disney has set a July 24 release for its live-action version of Mulan, with Paramount's The SpongeBob Movie: Sponge On The Run and Warner Bros/DC's Wonder Woman 1984 set for August.
No detail emerged of AMC's relationship with Universal, although it is understood the parties are in talks and there is currently no Universal film on AMC's schedule.