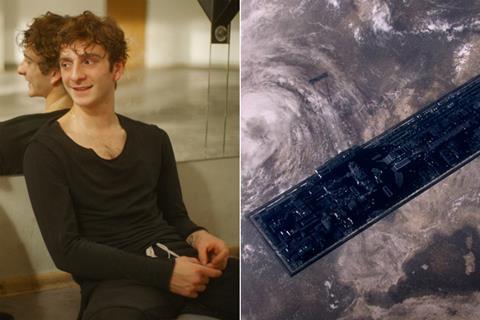 Levan Akin's Cannes 2019 title And Then We Danced and Pella Kågerman and Hugo Lilja's Toronto 2018 film Aniara led the winners at the 2020 Guldbagge Awards, held on January 20 in Stockholm, Sweden.
Both films picked up four awards each. And Then We Danced took best film, best actor for Levan Gelbakhiani, best screenplay for Akin, and best cinematography for Lisabi Fridell; while Aniara received best director, best actress for Emelie Garbers, best supporting actress for Bianca Cruzeiro, and best visual effects for Arild Andersson, Per Jonsson and Andreas Wicklund.
See below for the full list of winners
The awards mark the latest point on a successful run for both titles.
And Then We Danced launched in Directors' Fortnight at Cannes last year and has since won festival prizes at Sarajevo, Odessa and Chicago film festivals among others.
The Sweden-Georgia co-production centres on a romance between two male ballerinas in the National Georgian Ensemble. It was Sweden's entry for the international feature award at the Oscars and was hit with protests from far-right groups at its Georgian launch in November last year, leading to Akin calling for protestors to watch the film.
Following its debut as a Discovery title at Toronto 2018, sci-fi Aniara has played at festivals including Gothenburg, Edinburgh and Jerusalem, and won four prizes at Les Arcs in France last year.
Other Guldbagge winners included Anna Eborn's Transnistra for best documentary, Bong Joon Ho's Oscar contender Parasite for best foreign-language film, and Ella Lemhagen's family drama I'll Be Home For Christmas with the audience award.
The Guldbagge ('golden beetle') awards honour achievements in the Swedish film industry, and have run since 1964.
Guldbagge 2020 winners
Best Film - And Then We Danced
Best Director - Pella Kågerman and Hugo Lilja, Aniara
Best Actress in a Leading Role - Emelie Garbers, Aniara
Best Actor in a Leading Role - Levan Gelbakhiani, And Then We Danced
Best Actress in a Supporting Role - Bianca Cruzeiro, Aniara
Best Actor in a Supporting Role - David Dencik, The Perfect Patient (Quick)
Best Screenplay - Levan Akin, And Then We Danced
Best Cinematography - Lisabi Fridell, And Then We Danced
Best Editing - Erika Gonzales, Kristin Grundström and Karolina Bengtsson, Josefin & Florin
Best Costume Design - Margrét Einarsdóttir, Swoon
Best Sound/Sound Design - Andreas Franck and Fredrik Dalenfjäll, 438 Days (438 dagar)
Best Makeup - AnnaCarin Lock, The Perfect Patient (Quick)
Best Original Score - Nathaniel Méchaly, Swoon
Best Set Design - Anders Hellström, Frida Ekstrand Elmström and Nicklas Nilsson, About Endlessness
Best Visual Effects - Arild Andersson, Per Jonsson and Andreas Wicklund, Aniara
Best Short Film - Excess Will Save Us
Best Documentary Film - Transnistra
Best Foreign Language Film - Parasite
The Guldbagge Audience Award - I'll Be Home for Christmas
The Award of Honour - Lasse Åberg
The Gullspira (for extraordinary contributions in films for children) - Christian Ryltenius
The Award for Best Newcomer - Emily Norling