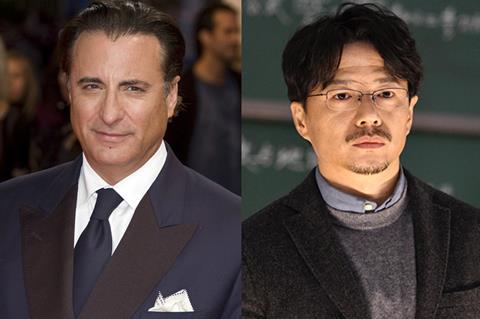 Andy Garcia and Duan Yihong have joined the cast of Iron Sky: The Ark, which has been shooting at Wanda Studios in Qingdao, China, since October.
Timo Vuorensola directs the Chinese-Finnish-Canadian sci-fi action film, which is the third feature film in the Iron Sky franchise.
Garcia plays the role of Illuminati mastermind billionaire William Russell, and Chinese star Duan Yihong (White Deer Plain, Summer Palace) plays the Greenwood scientist Fang Mingtao.
Other cast includes Rhydian Yue, Iron Sky veteran Udo Kier, and newcomer Vivienne Tien in the lead role.
Iron Sky: The Ark tells the story of two Chinese university dropout audiophiles who set out on a quest to decode a mysterious message received from the Moon, but quickly find themselves fighting against the mother of all conspiracy theories – the Illuminati.
"Working in China has exceeded all my expectations; I have a great cast and efficient crew. I`m very grateful to work with such experienced actors like Andy Garcia and Duan Yihong," said Vuorensola.
"We are very excited to have Andy Garcia in our cast to boost the international interest in to the project," producer Tero Kaukomaa added.
"The making of Iron Sky: The Ark is amazing, the true international crew delivers the best shots with integrated professionalism and hard work," said May He of Canada Longevity, the co-producer who put the project together initially.
Iron Sky: The Ark will finish shooting in early 2018 and is slated for a release Chinese Spring Festival release in early 2019 in China and internationally during the year 2019.
The second film in the franchise, Iron Sky: The Coming Race, is set to be released in 2018.