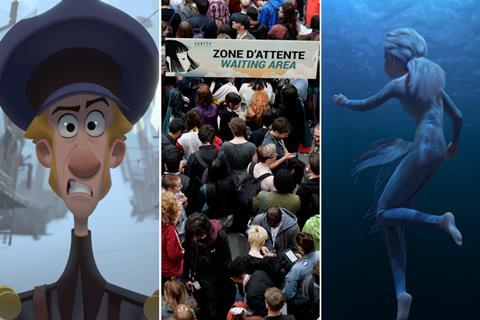 The Annecy International Animated Film Festival celebrated its 43rd edition (June 10-15), with filmmakers and industry professionals arriving at the French lakeside town for the latest content across features, shorts, videogames and VR. Screen reports on the key talking points for the film industry from the week.
Newcomers debut original feature animations
As part of Mifa, the festival's market event, Netflix presented several scenes from Sergio Pablos' Santa Claus origin story Klaus, the streamer's first in-house feature-length animated production. Melissa Cobb, vice president of original animation for Netflix, director Sergio Pablos, production designers Szymon Biernacki and Marcin Jakubowski were on hand to talk about the film. They said it was "85% complete" and set to launch on the platform for the 2019 winter holiday season.
Netflix also screened the first footage from its second original animation feature The Willoughbys, directed by Cloudy With A Chance Of Meatballs 2's Kris Pearn and set for a spring 2020 delivery.
Netflix was not the only newcomer in town. The UK's Locksmith Animation gave an early look at its first feature Ron's Gone Wrong, which will return to Annecy next year as a work-in-progress title, and is set to be released by 20th Century Fox in late 020.
Distributors upbeat about theatrical future

European distributors were generally optimistic when faced with the inevitable questions about how the traditional theatrical business for feature animations will adapt to the arrival of Netflix into the animated space. Amel Lacombe, founder of French theatrical distributor eurozoom, cited her company's success with the release of Mamoru Hosoda's films in France as evidence of the enduring audience appetite for the cinematic experience. "Some producers are wise enough to understand the market value of a director is not decided by Netflix," she suggesetd to the audience of a panel debate about innovative strategies for European animation distributors. "By working with the press and doing campaigns, you gain an added value that is impossible to gain on a platform. Wise producers and directors will still go for the theatrical experience, as they need that to get a brand."
Disney+ on the horizon
The imminent launch of streaming service Disney+ on November 12, 2019 was a hot topic of conversation among Annecy attendees. Despite the potential disruption caused by the decreased online availability of the company's enormous animation back catalogue, filmmakers expressed excitement at the possibilities it offered for animators. "For the creators, we now have an opportunity to communicate to our audience quicker," said The Willoughbys' Kris Pearn. "There's a more diverse moment happening in terms of what we can make." Pablos, director of Klaus, ventured a concern that "a great film or TV show could get buried under all the stuff", but also noted "as someone who does what I do, there are a lot more doors to knock on".
Studios mix innovation with reliable product
There was plenty to get excited about from the US studios. Sony Pictures Animation revealed it is working on two features with Genndy Tartakovsky (director of all three Hotel Transylvania films) – Black Knight and Fixed. It also launched an international initiative headed by Shrek producer Aron Warner, through which it will work with animators from around the world for local and global releases. The first release under the initiative will be Chris Appelhans' Wish Dragon, a story of modern-day friendship set in Shanghai, with a China release scheduled for 2020.
Dreamworks screened 25 minutes of its Yeti feature Abominable, as well as rough footage from 2020 title Trolls World Tour; while Disney brought Woody, Buzz and Bo Peep along ahead of Toy Story 4's worldwide launch this weekend, as well as showing two scenes from Christmas 2019 blockbuster Frozen 2, which will pick up three years after the events of the first film.
The festival's popularity may prompt a downsize in 2020

It was the 12th consecutive year of growth for the event, with festival organisers warning future editions might even have to downsize – Annecy is struggling to cater to the record numbers descending on the lakeside town for the week. The total number of attendees across the festival and market was up by 5% to 12,300 in 2019. The figures for Mifa were even more impressive: 4,143 accreditations were issued (a 9% increase), with 1,881 participating companies (8.4% up), and 498 projects submitted to the Mifa Pitch section (up 6.4%), according to figures provided by Annecy.