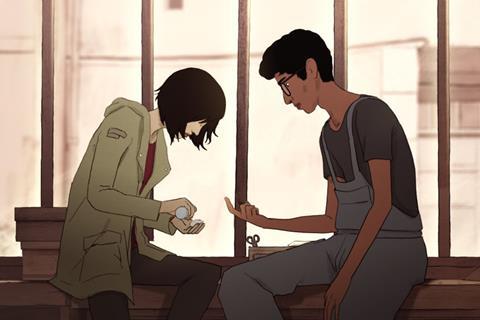 French director Jérémy Clapin's I Lost My Body continued its prize-winning run at the Annecy International Animation Festival (June 10-15) over the weekend, scooping the top Cristal award for best film as well as the audience award in the feature-length category.
The prizes follow its triumph at Cannes Critics' Week last month where it became the first feature-length animation to clinch the Grand Prize.
The quirky tale, produced by Marc Du Pontavice's Xilam Animation, revolves around a severed hand which escapes a laboratory cold-store and sets off on an urban odyssey across Paris in search of its owner.
Netflix took worldwide rights to the feature, excluding France, China, Benelux and Turkey, in a deal brokered by Paris-based sales company Charades at Cannes.
Spanish filmmaker Salvador Simo's Buñuel In The Labyrinth Of Tortoises was also feted at Annecy with a special jury mention.
The work recreates the circumstances around the shooting of Luis Buñuel's 1933 documentary Land Without Bread, capturing the impoverished lives of the inhabitants of the remote mountainous region of Las Hurdes. It is produced by Spain's Sygnatia Films and the Netherlands' Submarine.
Madrid-based Latido Films handles international sales. Deals to date include to North America (Gkids),Taiwan (Joint Entertainment International) and Hong Kong (Edko).
Away, the debut feature by 25-year-old Latvian filmmaker Gints Zilbalodiss won the top prize in the inaugural Contrechamp selection dedicated to emerging talent.
The fantasy tale follows a young boy trying to find his way home on a mysterious island with the help of a small bird.
In the short film category, French filmmaker Bruno Collet's Mémorable, about a devoted, elderly couple whose life together changes irrevocably when the husband develops Alzheimer's, won the Cristal for best short film and audience award.
Portuguese director Regina Pessoa won the jury award for Uncle Thomas: Accounting For The Days, based on her childhood memories of an eccentric uncle.