Ant-Man topped the chart as Goodbye Mr Loser raced past $200m.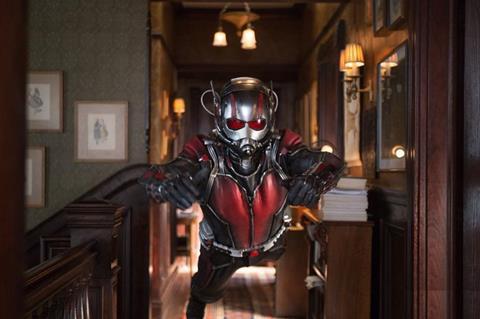 Disney/Marvel's superhero saga Ant-Man took the top spot with $39.07m in its second week, bringing its local cume to $81.87m after 10 days. It has become the second biggest original Marvel IP release in China.
Local surprise hit Goodbye Mr Loser was still doing brisk business in its fourth week, holding up well in second place with $22.59m for $211.80m after 26 days. It is now the third biggest local film (ahead of Xu Zheng's Lost In Thailand) and 7th biggest overall (ahead of Avatar) in China. It is understood that the film will be in cinemas for one more month till November 30. The extended run is expected to further drive its domestic box office.
French animation The Little Prince remained in third place with $9.09m for $20.87m after 10 days.
A string of new titles cracked the weekly top 10 with Detective Conan: Sunflowers Of Inferno as the highest new entry. The Japanese anime debuted at fourth place with $9.06m over its three-day opening weekend, making it the biggest Conan film in China. It is the 19th instalment of the franchise based on the Detective Conan manga and is by far the highest grossing Conan film in Japan.
Tian Meng's Youth Never Returns opened at fifth place with $4.47m over three days for $4.93m. Based on an online novel, the local teenage drama follows the love and friendship of a group of college students (played by Zhang Han and Taiwanese actress Chen Chiau En).
Trailing behind were Warner Bros' fantasy prequel Pan which debuted with a disappointing $3.45m over four days and local animation Where's The Dragon which grossed $2.34m over three days.
Xu's Lost In Hong Kong dropped to eight place with $1.41m for $253.59m after 31 days; followed by action thriller Survivor, with Milla Jovovich and Pierce Brosnan, which earned $0.94m for $1.36m after eight days.
Local romantic comedy Romance Out Of The Blue, starring Xia Yu, also earned $0.94m over three days. It is the first mainstream film from independent director Ning Ying who is best known for her Beijing Trilogy.
Sony's animated sequel Hotel Transylvania 2 opens today. Jia Zhangke's Mountains May Depart, Ahn Sang-hoon's The Witness and Thru The Moebius Strip 3D open on October 30.