Russia's leading documentary film festival Artdocfest has been targeted by anti-LGBT activists at venues in Moscow and St. Petersburg for programming Reka Valerik's film Silent Voice.
The 51-minute film follows a gay mixed martial arts (MMA) fighter from Chechnya, seeking a new life in Belgium after his brother found out he was gay and promised to kill him.
An unknown man introducing himself only as "Suliman" approached the festival's programme director Viktoria Belopolskaya and director Vitaly Mansky at Moscow's Oktyabr cinema at the weekend, and suggested that the film be removed from the festival programme.
According to the festival directors, the man said that "people are not happy in Chechnya. If the film is shown, there will be serious consequences". He also claimed that the film "violates the rights of Chechens" and hurts their mentality since there are "no gays" in Chechnya.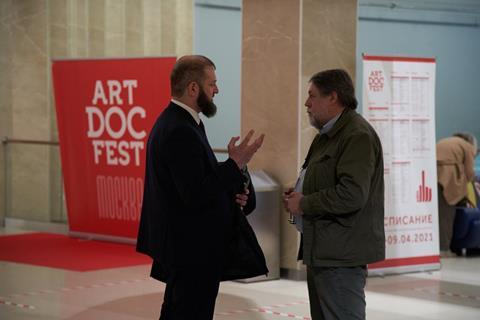 The previous day, director Valerik received threats on social media to "deprive him of his voice" and the filmmaker asked the festival to cancel the virtual Q&A as a result.
Mansky announced on the festival's Facebook page yesterday (April 5) that "due to the circumstances" organisers had been forced to pull Valerik's film from the line-up.
Speaking to radio station Ekho Moskvy, the festival director said: "I received information that all tickets for two screenings of this film were bought with one card at the same time", but could not say whether this was done to prevent viewers from attending the film or whether the screening might then be attended by "some not very desirable viewers".
The screenings of Silent Voice, planned for yesterday and today, have been replaced with Ksenia Okhapkina's Immortal, Artdocfest's Grand Prix winner in 2019.
St. Petersburg screenings cancelled
While the rest of Artdocfest's Moscow programme is continuing as planned, the St. Petersburg end of the festival has had to be completely abandoned after ultra-conservative anti-LGBT activist Timur Bulatov complained that the festival was promoting LGBT values among young people and violating anti-Covid regulations.
On Saturday (April 3), shortly after the festival opened with Evgenia Ostanina's Rastorguev, eight police officers and three representatives of the Russian Federal Service for Surveillance on Consumer Rights Protection and Human Wellbeing (Rospotrebnadzor) arrived in the foyer of St. Petersburg's Cinema House (Dom Kino).
They announced their intention to check the cinema hall for its compliance with hygiene and epidemiological standards as well as the presence of minors.
"The complaint was not shown to us, nor were any papers presented to us all," festival spokeswoman Olga Komok told Russian newspaper Novaya Gazeta.
The publication was also unable to obtain any further explanation from the St. Petersburg and Leningrad Regio police department or the regional department of Rospotrebnadzor.
Following the inspection, police officers sealed off the two venues at Cinema House where Artdocfest would have been held from April 3-10. The festival's other screening venue, Lendok Film Studio, later announced – an hour before its first screening on Sunday evening – that it had chosen to "cancel the Artdocfest programme to avoid provocations and the closure of our cultural centre".
Silent Voice, produced by David Hurst's French outfit Dublin Films with Belgium's Need Production and France's Maelstrom Studios as co-producers, received its world premiere at IDFA in 2020 and is handled internationally by Cat&Docs.