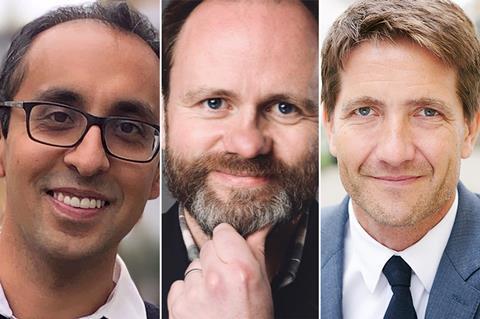 Kris Thykier's Archery Pictures and Danny Perkins' Elysian Film Group are teaming to launch the UK comedy production outfit Mews Films. The new venture will be run by producer Kurban Kassam who joins as managing director.
The multi-year agreement will see the new outfit develop a slate of commercial comedy projects aimed at the UK market. Mews Films is launching with a stated ambition to work with "Black, Asian, Minority Ethnic and female talent, whom are currently significantly underrepresented in the mainstream theatrical comedy marketplace, to the fore", as well as with established local comedy talent.
Elysian Film Group Distribution (EFGD), which launched at Berlin earlier this year, will release the films in the UK. EFGD is backed by a minority investment from Creative Artists Agency (CAA). Archery CEO Thykier said they were in talks with potential partners to handle international rights on which Elysian will lead.
Separate to Mews, Archery and Elysian both have busy in-house film and TV production arms. Archery's recent credits include John Madden's upcoming feature Operation Mincemeat and TV series Riviera for Sky Atlantic; Elysian is developing Coky Giedroyc's Greatest Days which it aims to shoot in the UK in early 2021.
"Mews has a very specific remit to develop British comedy films exclusively, very much with the UK domestic theatrical market in mind," Thykier explained. "Archery will continue to develop international mainstream commercial movies."
Kassam is a rising UK producer whose credits include Sally Potter's The Party and The Road Not Taken. He will report to Thykier, Perkins and Alex Marshall and Judy Counihan, COO and creative director respectively of Archery Pictures. Jon Champion will work as development co-ordinator with Jed Benedict, head of development and acquisition at Elysian.