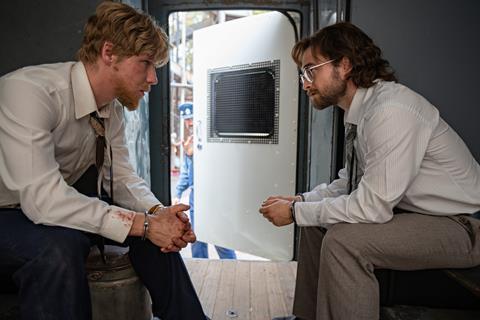 Arclight Films has released the first image from the Australia-UK true-life drama Escape From Pretoria starring Daniel Radcliffe, which has begun production in Adelaide, Australia.
British actor Ian Hart, Mark Leonard Winter, and Nathan Page have joined Radcliffe and Australian actor Daniel Webber in the story of political prisoners and freedom fighters Tim Jenkin and Stephen Lee, who were incarcerated in 1978 for their part in anti-apartheid operations for the African National Congress.
Incarcerated in Pretoria Maximum Security Prison, Jenkin and Lee – joined by a fellow inmate – crafted wooden keys for each of the 10 steel doors between them and freedom.
Screendaily was the first to report key sales by Arclight at the EFM in Berlin last month. Deals closed with KSM GmbH (Germany), Inopia Films (Spain), Top Film (CIS), Front Row (Middle East), Greece (Spentzos), Thailand (Logo Motion Pictures), Vietnam (Galaxy Studio), India (Viswaas), and airlines (CineSky Pictures).
Arclight Films, MEP Capital and the South Australian Film Corporation (SAFC) announced the start of production on Tuesday (12). Francis Annan makes his feature film directorial debut from a screenplay he co-wrote with LH Adams, based on Jenkin's autobiography Inside Out: Escape From Pretoria Prison.
Arclight chairman Gary Hamilton and Arclight's Michelle Krumm are producing Escape From Pretoria with BeaglePug's David Barron, Footprint Films' Mark Blaney, and Jackie Sheppard.
"We are delighted to be collaborating with the brilliant team at the SAFC and MEP Capital, and the producers at BeaglePug and Footprint Films," Hamilton said. "They are fantastic partners to bring this extraordinary tale to life and we look forward to seeing this incredible film in cinemas around the world very soon."
South Australia's minister for industry and skills, David Pisoni, added: "South Australia's increasing ability to attract major international productions to shoot here is testament to our diverse and unique locations and world-class crews and facilities. The Marshall Liberal Government is investing in our local film industry to ensure we are globally competitive."
"Footprint Films and BeaglePug are thrilled to be working with the SAFC, Arclight Films and MEP Capital to bring to life one of the most daring and ingenious prison escapes of the twentieth century," said UK Producers David Barron, Mark Blaney and Jackie Sheppard.
"We're also very excited to be working with the immensely talented Francis Annan and our outstanding cast on this astonishing true story. Much more than just another prison break thriller, Escape From Pretoria is a story of our time, a story of risking everything in the fight for freedom and equality, against injustice and oppression."
Post-production will take place in Melbourne. The film received support through Film Victoria's PDV incentive programme, and is an Australian/UK co-production between Hamilton Entertainment, BeaglePug, and Footprint Films.