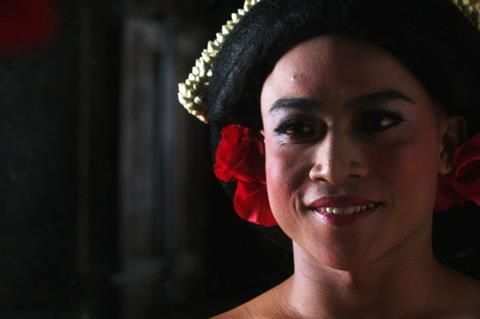 Asian Shadows has picked up international rights to Indonesian filmmaker Garin Nugroho's Memories Of My Body, which has been selected to play in the Orizzonti section of this year's Venice film festival.
The deal marks the second collaboration between Asian Shadows and Jogjakarta-based production house Fourcolours Films, founded by Indonesian filmmaker Ifa Isfansyah, following Eddie Cahyono's Siti (2014).
Nugroho, one of the masters of Indonesian cinema, was previously at Venice 12 years ago with Opera Java (2006), produced as part of the celebrations of the 250th birthday of Mozart. His credits also include Leaf On A Pillow (1998), which premiered in Cannes' Un Certain Regard and won the Special Jury Prize in Tokyo, and Bird Man Tale, which won the NETPAC award at the Belinale in 2002.
Fourcolours Films also has credits including Kamila Andini's award-winning The Seen And The Unseen and Wicaksono Wisnu Legowo's Turah, which was selected as Indonesia's foreign-language Oscar submission in 2017. The company is currently producing Faozan Rizal's Abracadabra and developing Eddie Cahyono's Imah.
In addition to Memories Of My Body and Siti, Asian Shadows has handled international distribution of two other award-winning Indonesian films – Mouly Surya's Marlina The Murderer In Four Acts, which premiered in Directors Fortnight in Cannes last year, and Yosep Anggi Noen's 2016 Solo Solitude, which premiered in Locarno.
Nugroho was also involved in Marlina The Murderer In Four Acts as the script of the film was based on his story.
Memories Of My Body follows a dancer from his childhood to his late twenties. Abandoned by his father as child, he joins a Lengger dance centre where men shape their feminine appearance and movement. But the sensuality of the dance, combined with the violent social and political climate in Indonesia, force him to move from village to village.
"We are delighted at Asian Shadows to collaborate again with Ifa Isfansyah and Fourcolours, to bring another major Indonesian film to the international market," said Asian Shadows CEO Isabelle Glachant.
"Garin Nugroho has been essential in bringing Indonesian culture and cinema to the world. His new film Memories Of My Body is an ode to Javanese dancers and their struggle in recent history, in the form of a biopic full of sensibility, sensuality and strength."
Nugroho said: "Memories Of My Bodyis about the encounter of masculinity and femininity in one body. The body naturally experiences a journey, from nature, home and tradition. A journey that also creates traumatic incidents."